About Carbon
Steel,

Alloy

Steel,

Spring

Steel,

and Cast Iron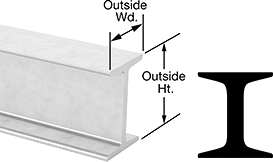 Yield

Strength:

50,

000 psi

Hardness:

Not Rated
Heat

Treatable:

Yes
Specifications

Met:

ASTM A992
Made of rigid low-carbon steel, these I-beams are often used in construction, framing, lifting, and hoisting applications. Also known as mild steel, low-carbon steel is the most commonly used material for I-beams. It deflects less under load than medium- or high-carbon steel and is less likely to crack from welding. These I-beams have rounded corners, and are also known as American Standard I-beams. They weigh less than low-carbon steel H-bars, but are not as strong.
For technical drawings and 3-D models, click on a part number.

Certificates with a traceable lot number are available for these products. Download certificates from ORDER HISTORY after your order ships.
Wall
Thickness
Height
Height Tolerance
Width
Width Tolerance
Straightness
Tolerance

3 ft.

Lg.

6 ft.

Lg.

0.26"
3"
-0.063" to 0.094"
2.33"
-0.125" to 0.125"
0.025" per ft.
0000000
0.293"
4"
-0.063" to 0.094"
2.663"
-0.125" to 0.125"
0.025" per ft.
0000000
0.359"
6"
-0.063" to 0.094"
3.332"
-0.125" to 0.125"
0.0125" per ft.
0000000
0.425"
8"
-0.094" to 0.125"
4.001"
-0.156" to 0.156"
0.0125" per ft.
0000000