Selecting Clamps Using
Pipe,

Conduit,

or Tubing Trade Size
Narrow-Space

Strut-Mount

Metal Routing Clamps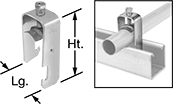 A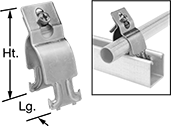 B
Even when these clamps are installed side by side, the clamping screws remain accessible. Use them to route pipe, tubing, and conduit across strut channel. All are zinc-plated steel for good corrosion resistance. Tighten the clamping screw to secure.
Style B clamps have an angled screw, making them easy to access with a screwdriver or drill in low-headroom applications.
For technical drawings and 3-D models, click on a part number.
Style
Inch

Metric,


mm
For
Pipe
Size

Color

Capacity,




lbs.

Lg.

Wd.

Ht.

Thick.

For Strut
Channel


Wd.

Mounting
Fasteners
Included
Screw
Material
Specifications
Met
Each
A

3/8

"-

11/16

"
10-17

1/8

,

3/8

__
200
1"

3/4

"
1

3/4

"

1/16

"
1

5/8

"
Yes
Steel
UL Listed, C-UL Listed

000000
00000
A

5/8

"-

7/8

"
16-22

3/8

,

1/2

__
200
1

1/4

"

3/4

"
2"

1/16

"
1

5/8

"
Yes
Steel
UL Listed, C-UL Listed

000000
0000
A

3/4

"-1

1/8

"
19-29

3/4

__
200
1

1/2

"

3/4

"
2

1/4

"

1/16

"
1

5/8

"
Yes
Steel
UL Listed, C-UL Listed

000000
0000
A
1"-1

1/2

"
25-38

3/4

, 1

__
200
1

3/4

"

3/4

"
2

1/2

"

1/16

"
1

5/8

"
Yes
Steel
C-UL Listed

0000000
0000
A
1

1/4

"-1

11/16

"
32-43
1

1/4

__
350
2

1/4

"

3/4

"
2

3/4

"

7/64

"
1

5/8

"
Yes
Steel
__
0000000
0000
A
1

3/4

"-2

3/16

"
44-56
1

1/2

__
350
2

3/4

"

3/4

"
3

1/4

"

7/64

"
1

5/8

"
Yes
Steel
UL Listed, C-UL Listed

0000000
0000
B

13/16

"
21

1/2

Gold
400
1

1/16

"
1

1/4

"
2

1/2

"

5/64

"
1

5/8

"
Yes
Steel
UL Listed, C-UL Listed

0000000
0000
B
1

1/16

"
27

3/4

Gold
500
1

5/16

"
1

1/4

"
2

3/4

"

5/64

"
1

5/8

"
Yes
Steel
UL Listed, C-UL Listed

0000000
0000
B
1

5/16

"
33
1

Gold
500
1

7/16

"
1

1/4

"
3

1/8

"

5/64

"
1

5/8

"
Yes
Steel
UL Listed, C-UL Listed

0000000
0000
B
1

11/16

"
43
1

1/4

Gold
500
1

15/16

"
1

1/4

"
3

1/2

"

5/64

"
1

5/8

"
Yes
Steel
UL Listed, C-UL Listed

0000000
0000
B
1

7/8

"
48
1

1/2

Gold
800
2

1/8

"
1

1/4

"
4"

7/64

"
1

5/8

"
Yes
Steel
UL Listed, C-UL Listed

0000000
0000
B
2

3/8

"
60
2

Gold
800
2

5/8

"
1

1/4

"
4

1/2

"

7/64

"
1

5/8

"
Yes
Steel
UL Listed, C-UL Listed

0000000
0000