Polished Multipurpose 304 Stainless Steel
Polished to either a brushed or mirror-like finish, this material is widely used to fabricate decorative enclosures and industrial workstations. The sheets, strips, bars, and adhesive-back foil are covered with a protective peel-off film. 304 stainless steel is a good all-around choice for a wide range of applications. It maintains its corrosion resistance in temperatures up to 1500° F.
Brushed #4 is often called a satin finish; it's similar to a #3 finish, except the grain lines are finer. Mirror-like #7 finish is reflective with some visible grain lines. Rectangular and round tubes are polished on the outside.
For technical drawings and 3-D models, click on a part number.

Certificates with a traceable lot number are available for these products. Download certificates from ORDER HISTORY after your order ships.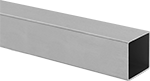 Yield

Strength:

30,

000 psi

Hardness:

Not Rated
Heat

Treatment:

Annealed

(Softened)

Heat

Treatable:

No
Specifications

Met:

ASTM A554
Ht.

Ht.


Tolerance

Wd.

Wd.


Tolerance

Ht.

Wd.

Fabrication
Straightness
Tolerance

1/2




ft.




Lg.

1 ft.




Lg.

3 ft.




Lg.

6 ft.




Lg.

0.065"

Wall

Thick.

(-0.007" to 0.007" Tolerance)

1"
-0.015" to 0.015"
1"
-0.015" to 0.015"
0.87"
0.87"
Welded

1/8

" per 3 ft.
00000000
1

1/2

"
-0.020" to 0.020"
1

1/2

"
-0.020" to 0.020"
1.37"
1.37"
Welded

1/8

" per 3 ft.
00000000

0.12"

Wall

Thick.

(-0.012" to 0.012" Tolerance)

1

1/2

"
-0.020" to 0.020"
1

1/2

"
-0.020" to 0.020"
1.26"
1.26"
Welded

1/8

" per 3 ft.
00000000
2"
-0.020" to 0.020"
2"
-0.020" to 0.020"
1.76"
1.76"
Welded

1/8

" per 3 ft.
00000000



Yield

Strength:


Inch

Sizes:

Not Rated
Metric

Sizes:

24,

000 psi

Hardness:


Inch

Sizes:

Rockwell B80

(Medium)


Metric

Sizes:

Rockwell B70

(Medium)

Heat

Treatment:

See table
Heat

Treatable:

No
Specifications

Met:


Inch

Sizes:

ASTM A554
Metric

Sizes:

ASTM A269
OD
OD
Tolerance
ID
Fabrication
Heat
Treatment
Straightness
Tolerance

1 ft.




Lg.

3 ft.




Lg.

6 ft.




Lg.

0.035"

Wall

Thick.

(-0.0035"

to

0.0035"

Tolerance)

1/2

"
-0.020" to 0.020"
0.43"
Welded
__
0.030" per 3 ft.
0000000

3/4

"
-0.020" to 0.020"
0.68"
Welded
__
0.030" per 3 ft.
0000000

7/8

"
-0.020" to 0.020"
0.805"
Welded
__
0.030" per 3 ft.
0000000
1"
-0.020" to 0.020"
0.93"
Welded
__
0.030" per 3 ft.
0000000
1

1/4

"
-0.020" to 0.020"
1.18"
Welded
__
0.030" per 3 ft.
0000000
1

1/2

"
-0.020" to 0.020"
1.43"
Welded
__
0.030" per 3 ft.
0000000
2"
-0.020" to 0.020"
1.93"
Welded
__
0.030" per 3 ft.
0000000

0.049"

Wall

Thick.

(-0.0049"

to

0.0049"

Tolerance)

1/2

"
-0.020" to 0.020"
0.402"
Welded
__
0.030" per 3 ft.
0000000

3/4

"
-0.020" to 0.020"
0.652"
Welded
__
0.030" per 3 ft.
0000000

7/8

"
-0.020" to 0.020"
0.777"
Welded
__
0.030" per 3 ft.
0000000
1"
-0.020" to 0.020"
0.902"
Welded
__
0.030" per 3 ft.
0000000
1

1/4

"
-0.020" to 0.020"
1.152"
Welded
__
0.030" per 3 ft.
0000000
1

1/2

"
-0.020" to 0.020"
1.402"
Welded
__
0.030" per 3 ft.
0000000
2"
-0.020" to 0.020"
1.902"
Welded
__
0.030" per 3 ft.
0000000

0.065"

Wall

Thick.

(-0.0065"

to

0.0065"

Tolerance)

1/2

"
-0.020" to 0.020"
0.37"
Welded
__
0.030" per 3 ft.
0000000

3/4

"
-0.020" to 0.020"
0.62"
Welded
__
0.030" per 3 ft.
0000000

7/8

"
-0.020" to 0.020"
0.745"
Welded
__
0.030" per 3 ft.
0000000
1"
-0.020" to 0.020"
0.87"
Welded
__
0.030" per 3 ft.
0000000
1

1/4

"
-0.020" to 0.020"
1.12"
Welded
__
0.030" per 3 ft.
0000000
1

1/2

"
-0.020" to 0.020"
1.37"
Welded
__
0.030" per 3 ft.
0000000
2"
-0.020" to 0.020"
1.87"
Welded
__
0.030" per 3 ft.
0000000

0.12"

Wall

Thick.

(-0.012" to 0.012" Tolerance)

7/8

"
-0.020" to 0.020"
0.635"
Welded
__
0.030" per 3 ft.
0000000
1"
-0.020" to 0.020"
0.76"
Welded
__
0.030" per 3 ft.
0000000
1

1/8

"
-0.020" to 0.020"
0.885"
Welded
__
0.030" per 3 ft.
0000000
1

1/4

"
-0.020" to 0.020"
1.01"
Welded
__
0.030" per 3 ft.
0000000
1

1/2

"
-0.020" to 0.020"
1.26"
Welded
__
0.030" per 3 ft.
0000000
2"
-0.020" to 0.020"
1.76"
Welded
__
0.030" per 3 ft.
0000000
3"
-0.020" to 0.020"
2.76"
Welded
__
0.030" per 3 ft.
0000000

1mm Wall

Thick.

(-0.015mm

to

0.015mm

Tolerance)

10mm
-0.130mm to 0.130mm
8mm
Seamless
Annealed (Softened)
Not Rated
0000000
15mm
-0.130mm to 0.130mm
13mm
Seamless
Annealed (Softened)
Not Rated
0000000
20mm
-0.130mm to 0.130mm
18mm
Seamless
Annealed (Softened)
Not Rated
0000000

2mm Wall

Thick.

(-0.03mm to 0.03mm Tolerance)

8mm
-0.130mm to 0.130mm
4mm
Seamless
Annealed (Softened)
Not Rated
0000000
10mm
-0.130mm to 0.130mm
6mm
Seamless
Annealed (Softened)
Not Rated
0000000
12mm
-0.130mm to 0.130mm
8mm
Seamless
Annealed (Softened)
Not Rated
0000000
15mm
-0.130mm to 0.130mm
11mm
Seamless
Annealed (Softened)
Not Rated
0000000
20mm
-0.130mm to 0.130mm
16mm
Seamless
Annealed (Softened)
Not Rated
0000000
25mm
-0.130mm to 0.130mm
21mm
Seamless
Annealed (Softened)
Not Rated
0000000
50mm
-0.250mm to 0.250mm
46mm
Seamless
Annealed (Softened)
Not Rated
0000000

3mm Wall

Thick.

(-0.3mm to 0.3mm Tolerance)

12mm
-0.130mm to 0.130mm
6mm
Seamless
Annealed (Softened)
Not Rated
0000000
15mm
-0.130mm to 0.130mm
9mm
Seamless
Annealed (Softened)
Not Rated
0000000
20mm
-0.130mm to 0.130mm
14mm
Seamless
Annealed (Softened)
Not Rated
0000000
25mm
-0.130mm to 0.130mm
19mm
Seamless
Annealed (Softened)
Not Rated
0000000
50mm
-0.250mm to 0.250mm
44mm
Seamless
Annealed (Softened)
Not Rated
0000000