Rigid
Ultra-Strength

Lightweight Carbon Fiber Sheets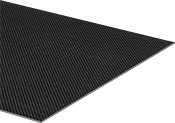 Color:

Black
Maximum

Temperature:

180° F

Tensile

Strength:

125,000-150,

000 psi

(Excellent)

Impact

Strength:

Not Rated
Hardness

Rating:

Not Rated

For Use

Outdoors:

No
Almost as stiff as steel and a fraction of the weight, these carbon fiber sheets are often used for structural framing, machinery components, and robotics. Known for its use in the aerospace industry—where a balance of weight and strength is critical—carbon fiber is lightweight, so it reduces the stress and wear on motorized parts and extends the life of machinery. These sheets have layers that alternate fibers in two directions, so they resist bending at the edges.
The checked pattern on these sheets gives them a classic carbon-fiber look and makes them easy to machine because the pattern keeps fibers from splintering when the sheets are cut. They are matte, so they do not reflect light and are ready to paint.
For technical drawings and 3-D models, click on a part number.