Spring Clamps

Steel Body and Jaws

Steel Body and Plastic Jaws

Plastic Body and Jaws

Stainless Steel Body and Jaws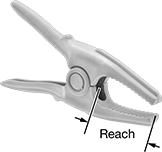 Fiberglass Body and Jaws
Squeeze the handles to open the clamp; release and the spring holds it tightly in place. Clamping surfaces are parallel when fully opened.
Stainless steel and fiberglass clamps have excellent corrosion resistance.
Cushion-grip clamps have plastic-covered handles for a comfortable grip.
For technical drawings and 3-D models, click on a part number.
Max.

Min.

Reach
Holding


Capacity,

lbs.

Type

Wd.

Material
Overall


Lg.

Each

Steel Body

Plain Grip

1"
0"
1

1/4

"
95
Fixed

3/4

"
Steel
4"
000000
00000
2"
0"
2"
80
Fixed
1"
Steel
6"
000000
0000
3"
0"
3"
75
Fixed
1

1/4

"
Steel
9"
000000
0000
4"
0"
4"
75
Fixed
1

1/4

"
Steel
12"
000000
00000

Cushion Grip

1"
0"
1

1/4

"
95
Fixed

3/4

"
PVC Plastic
4"
000000
0000
2"
0"
2"
80
Fixed
1"
PVC Plastic
6"
000000
0000
3"
0"
3"
75
Fixed
1

1/4

"
PVC Plastic
9"
0000000
00000
4"
0"
4"
75
Fixed
1

1/4

"
PVC Plastic
12"
0000000
00000

Plastic Body

Plain Grip

3/4

"
0"
1

1/2

"
5
Pivoting

3/8

"
Polypropylene Plastic
3

1/4

"
00000000
0000
1"
0"
1

1/2

"
Not Rated
Pivoting
1"
Thermoplastic Plastic
4

1/2

"
00000000
0000
2"
0"
2

5/8

"
Not Rated
Pivoting
1

1/8

"
Thermoplastic Plastic
6

1/4

"
00000000
0000
3"
0"
3

3/4

"
Not Rated
Pivoting
1

1/8

"
Thermoplastic Plastic
8

3/4

"
00000000
0000

316 Stainless Steel Body

Cushion Grip

2

1/4

"
0"
2

1/8

"
35
Fixed
1

1/4

"
316 Stainless Steel
6"
0000000
00000
2

1/4

"
0"
2

1/8

"
45
Fixed
1

1/4

"
316 Stainless Steel
6"
0000000
00000

Fiberglass

Plain Grip

2

1/2

"
1"
2

3/4

"
60
Fixed

5/8

"
Fiberglass
8

1/4

"
0000000
00000