About
Copper,

Brass,

and Bronze
Weldable 122 Copper Tubes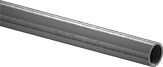 Yield

Strength:

Not Rated

Hardness:

Not Rated

Temper:

H02 (

1/2

Hard)

Heat

Treatable:

No
Specifications

Met:

ASTM B251
The addition of phosphorus makes 122 copper easier to weld and braze than 110 copper. It has excellent resistance to corrosion caused by water, soil, and weather, making it the go-to material for plumbing and underground applications. It's also used for storage tanks and chemical equipment. It's less electrically conductive than other copper. Each tube fits inside the next larger size for creating telescoping tubes.
For technical drawings and 3-D models, click on a part number.

Certificates with a traceable lot number are available for these products. Download certificates from ORDER HISTORY after your order ships.