Glass-Tube

and

Ceramic-Tube

Fuse Assortments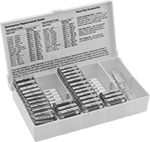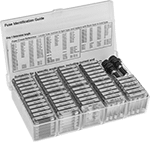 Maintain a supply of fast-acting and time-delay fuses.
Time-delay fuses withstand current overload for a short time so they won't open when exposed to harmless temporary surges, such as when starting a motor.
Fast-acting fuses open circuits quickly when surges are detected so they are suitable for resistive loads that do not have temporary overload current.
For technical drawings and 3-D models, click on a part number.
Current,


A
Total Number
of Pieces
Includes
Container
Type
Each

1/4

-30
140
3AB Ceramic-Tube Fast-Acting and Time-Delay Fuses, 3AG Glass-Tube Fast-Acting and Time-Delay Fuses, Fuse Clips, Fuse Holders
Plastic Box
000000
0000000

1/8

-30
270
3AB Ceramic-Tube Fast-Acting and Time-Delay Fuses, 3AG Glass-Tube Fast-Acting and Time-Delay Fuses, 5mm Dia. Glass-Tube Fast-Acting Fuses, Fuse Block, Fuse Clips, Fuse Holders
Plastic Box
000000
000000