Calibration Styli for
Quick-Connect

Robot Tool Changers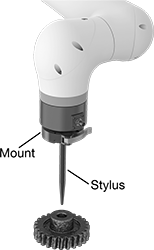 Align your robot arm with work areas using these styli to make sure it will perform automated tasks accurately and won't damage workpieces. Slide these styli into the quick-connect clamp on an end-of-robot-arm mount (sold separately). They show you exactly where your tool will touch, so you don't have to test your application with trial and error. These styli are often used to guide robots to hole centers when attaching fasteners, or to help them find objects in pick-and-place applications. You can also use them to help your machine-vision camera recognize patterns and locations.
For technical drawings and 3-D models, click on a part number.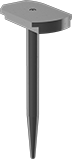 Stylus
Lg.,


mm

Wt.

Color
For

Robot-Arm

Mounting
Adapter Material
Each

Anodized Aluminum

154
0.29 lbs. / 0.13 kg
Black
Aluminum
00000000
0000000

Low-Profile
Mount for End of Arm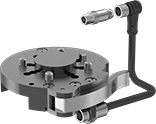 Utility Mount for End of Arm
These mounts have standard ISO mounting hole patterns, so they're compatible with the mounting hole patterns on most robot arms and tools. If you don't see your robot model number listed, measure the bolt circle diameter to determine mounting compatibility.
Bolt Circle

Dia.




(Mount.

Hole
Pattern

Compatibility)

Mounting
Plate


Dia.,

mm

Max.


Load


Cap.

Wt.

Lg.,


mm
Includes
Features
For Robot Arm
Manufacturer


(Series/Model Number)

Each

Low

Profile—

Black

PTFE-Coated

Aluminum

(Bolt On)

31.5 mm (ISO 31.5)
40 mm (ISO 40)
50 mm (ISO 50)
83
110 lbs. / 50 kg
0.53 lbs. / 0.24 kg
19
__
__
ABB (IRB 360 6/1600, 8/1130; IRB 120;
IRB 140; IRB 1200; IRB 1410; IRB 1600;
IRB 2400; IRB 2600)
FANUC (CR 4iA, 7iA; CRX
10iA, 10iA/L; LR Mate 200iD/7L; M-20 iA)
KUKA Robotics (KR 10 R1100-2)
Omron (TM 5, 12, 14)
Precise Automation (PAVP6; PF3400; PP100)
Productive Robotics (OB7)
Staubli (TX2 90)
Universal Robots (UR3; UR3e; UR5;
UR5e; UR10; UR10e; UR16; UR16e)
Yaskawa/Motoman (GP 7, 8;
MH 3BM, 3F, 5LS II, 5S II;
MPP 3H, 3S)
00000000
0000000

Utility—

Black

PTFE-Coated

Aluminum

(Bolt On)

31.5 mm (ISO 31.5)
40 mm (ISO 40)
50 mm (ISO 50)
83
110 lbs. / 50 kg
0.71 lbs. / 0.32 kg
74
Power/Signal Connector with 5-ft. Wire Leads
Dual 6 mm Pneumatic Pass-Throughs, M8 8-Pin Power/Signal Pass-Through
ABB (IRB 360 6/1600, 8/1130; IRB 120;
IRB 140; IRB 1200; IRB 1410; IRB 1600;
IRB 2400; IRB 2600)
FANUC (CR 4iA, 7iA; CRX
10iA, 10iA/L; LR Mate 200iD/7L; M-20 iA)
KUKA Robotics (KR 10 R1100-2)
Omron (TM 5, 12, 14)
Precise Automation (PAVP6; PF3400; PP100)
Productive Robotics (OB7)
Staubli (TX2 90)
Universal Robots (UR3; UR3e; UR5;
UR5e; UR10; UR10e; UR16; UR16e)
Yaskawa/Motoman (GP 7, 8;
MH 3BM, 3F, 5LS II, 5S II;
MPP 3H, 3S)
00000000
00000000