Setup Blocks
Use these tight-tolerance blocks as mounting bases and supports to ensure accurate angles and spacing.
For technical drawings and 3-D models, click on a part number.
Blocks with 23 Holes Total
Sine Bars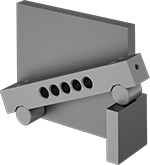 Shown with Gauge Block
(Not Included)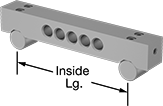 Measure, mark, and inspect exact angles on dies and other precision parts. These sine bars are smaller and less expensive than sine plates and more accurate than other measuring tools, such as protractors. They are made from hardened, precision-ground steel to resist wear and ensure accurate measurements over time.