Compact Insertion Flow Switches for Water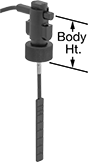 With
Socket-Weld
Connection
At half the height of standard insertion flow switches, these are often installed in tees or pipe outlets in low-clearance areas. They're installed in tees or pipe outlets to detect the flow rate of liquid in contact with the sensing paddle. They activate or deactivate equipment when the flow rate reaches your set point. Switches are single pole, double throw (SPDT) and can be installed to turn one circuit from "off" to "on" (normally open). The flow rate varies based on the pipe size and the paddle length.
Maximum flow rate is how much water can temporarily flow through your pipe without damaging the switch.
Switches with a socket-weld connection are for use with unthreaded male pipe.
Switches with a trimmable paddle can be cut to fit a range of pipe sizes. Those with a 301 stainless steel paddle can be used with higher maximum flow rates than switches with a Noryl plastic paddle.
For technical drawings and 3-D models, click on a part number.
Pipe
Size

For
Pipe
Size
Set


Point,


gpm
Set Point
Adjustment
Method
Paddle
Material

Max.

Flow


Rate,


gpm

Max.


Pressure

Temp.




Range,




°F

Voltage
Current
Body


Ht.

Environmental
Rating
Each

Noryl Plastic Body

1/2

1/2

0.97 to 1.03
__
Noryl Plastic
7.9
160 psi @ 70 ° F
-13° to 212°
120V AC/ 240V AC
1 A @ 120 V AC
2

1/2

"
IP65

00000000
0000000

3/4

3/4

1.87 to 1.94
__
Noryl Plastic
21
160 psi @ 70 ° F
-13° to 212°
120V AC/ 240V AC
1 A @ 120 V AC
2

1/2

"
IP65

00000000
000000

3/4

1

1/2

to 3
8 to 23
Trimmable Paddles
301 Stainless Steel
650
160 psi @ 70 ° F
-13° to 212°
120V AC/ 240V AC
1 A @ 120 V AC
2

1/2

"
IP65

00000000
000000

3/4

1

1/2

to 3
8 to 23
Trimmable Paddles
Noryl Plastic
390
160 psi @ 70 ° F
-13° to 212°
120V AC/ 240V AC
1 A @ 120 V AC
2

1/2

"
IP65

0000000
000000
1

1
2.4 to 2.7
__
Noryl Plastic
40
160 psi @ 70 ° F
-13° to 212°
120V AC/ 240V AC
1 A @ 120 V AC
2

1/2

"
IP65

00000000
000000