Clear
Impact-Resistant

Polycarbonate Sheets and Bars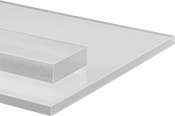 Clear

Gray

Bronze
At only half the weight of glass, these polycarbonate sheets and bars are often used for windows, machine guards, instrument gauge covers, and signs. Polycarbonate is comparable to Lexan, Hyzod, Tuffak, and Makrolon. It has greater impact strength than Plexiglas® Acrylic and can be used in similar applications. Sheets and bars that meet UL 972 are rated as burglar resistant.
If you don't see the size you're looking for, please specify length and width under additional sheet sizes.
Gray and bronze sheets and bars are useful in light-sensitive applications where a see-through material is required.
Tight-tolerance sheets and bars are consistently flat, square, and parallel on all sides.
For technical drawings and 3-D models, click on a part number.