Clear
Ultra-Impact-Resistant

Polycarbonate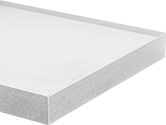 Color:

Clear
Temperature

Range:

-40° to 180° F

Tensile

Strength:

9,

500 psi psi

(Good)

Impact

Strength:

Not Rated

(Excellent)

Hardness:

Rockwell R118

(Hard)

Specifications

Met:

See Table

For Use

Outdoors:

Yes
Often used in security doors and windows to protect against forced entry, these laminated polycarbonate sheets are nearly impenetrable. They have a clear coating that protects against abrasion, UV light, chemical cleaners, and graffiti. Polycarbonate is comparable to Lexan, Hyzod, Tuffak, and Makrolon. This material has greater impact strength than Plexiglas® Acrylic and can be used in similar applications.
3/4" thick sheets consist of one layer of acrylic sandwiched between two polycarbonate layers.
1 1/4" thick sheets consist of four layers of polycarbonate.
For technical drawings and 3-D models, click on a part number.
Thick.

Thick.

Tolerance
Specifications Met
Each

3/4

"
-0.065" to 0.065"
UL 752 Level 1
00000000
000000
1

1/4

"
-0.065" to 0.065"
ASTM F1233 Class 5, UL 752 Level 3
00000000
00000

3/4

"
-0.065" to 0.065"
UL 752 Level 1
00000000
00000
1

1/4

"
-0.065" to 0.065"
ASTM F1233 Class 5, UL 752 Level 3
00000000
000000

3/4

"
-0.065" to 0.065"
UL 752 Level 1
00000000
000000
1

1/4

"
-0.065" to 0.065"
UL 752 Level 1
00000000
000000

3/4

"
-0.065" to 0.065"
UL 752 Level 1
00000000
000000
1

1/4

"
-0.065" to 0.065"
UL 752 Level 1
00000000
000000

3/4

"
-0.065" to 0.065"
UL 752 Level 1
00000000
000000
1

1/4

"
-0.065" to 0.065"
UL 752 Level 1
00000000
000000

3/4

"
-0.065" to 0.065"
UL 752 Level 1
00000000
000000
1

1/4

"
-0.065" to 0.065"
ASTM F1233 Class 5, UL 752 Level 3
00000000
00000000