Clear
UV-

and

Impact-Resistant

Polycarbonate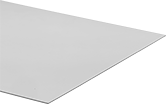 Color:

Clear
Temperature

Range:

-40° to 212° F

Tensile

Strength:

9,

500 psi

(Good)

Impact

Strength:

18

ft.

-

lbs./in.

(Excellent)

Hardness:

Rockwell R118

(Hard)

For Use

Outdoors:

Yes
Specifications

Met:

See table
Enhanced UV resistance makes these polycarbonate sheets better than standard polycarbonate for outdoor use. Polycarbonate is half the weight of glass and is comparable to Lexan, Hyzod, Tuffak, and Makrolon. This material has greater impact strength than Plexiglas® Acrylic and can be used in similar applications.
Sheets that meet UL 94 HB, UL 94 V-2, or UL 94 V-0 standards are rated for flammability. Those that meet UL 972 standards are rated as burglar resistant.
For technical drawings and 3-D models, click on a part number.
Thick.

Thick.

Tolerance
Specifications Met
Each

1/8

"
-0.013" to 0"
UL 94 V-2
00000000
00000
0.177"
-0.006" to 0.006"
UL 94 V-2
00000000
0000

1/4

"
-0.026" to 0"
UL 94 V-0
00000000
0000

3/8

"
-0.019" to 0.019"
UL 94 V-0
00000000
0000

1/2

"
-0.025" to 0.025"
UL 94 V-0, UL 972
00000000
00000

1/8

"
-0.013" to 0"
UL 94 V-2
00000000
0000
0.177"
-0.006" to 0.006"
UL 94 V-2
00000000
0000

1/4

"
-0.026" to 0"
UL 94 V-0
00000000
0000

3/8

"
-0.019" to 0.019"
UL 94 V-0
00000000
00000

1/2

"
-0.025" to 0.025"
UL 94 V-0, UL 972
00000000
00000

1/8

"
-0.013" to 0"
UL 94 HB, UL 972
00000000
0000
0.177"
-0.006" to 0.006"
UL 94 HB, UL 972
00000000
00000

1/4

"
-0.026" to 0"
UL 94 HB, UL 972
00000000
00000

3/8

"
-0.019" to 0.019"
UL 94 V-0
00000000
00000

1/2

"
-0.025" to 0.025"
UL 94 V-0, UL 972
00000000
00000

1/8

"
-0.013" to 0"
UL 94 V-2
00000000
00000
0.177"
-0.006" to 0.006"
UL 94 V-2
00000000
00000

1/4

"
-0.026" to 0"
UL 94 V-0
00000000
00000

3/8

"
-0.019" to 0.019"
UL 94 V-0
00000000
00000

1/2

"
-0.025" to 0.025"
UL 94 V-0, UL 972
00000000
00000

1/8

"
-0.013" to 0"
UL 94 V-2
00000000
00000
0.177"
-0.006" to 0.006"
UL 94 V-2
00000000
00000

1/4

"
-0.026" to 0"
UL 94 V-0
00000000
00000

3/8

"
-0.019" to 0.019"
UL 94 V-0
00000000
00000

1/2

"
-0.025" to 0.025"
UL 94 V-0, UL 972
00000000
00000

1/8

"
-0.013" to 0"
UL 94 V-2
00000000
00000
0.177"
-0.006" to 0.006"
UL 94 V-2
00000000
00000

1/4

"
-0.026" to 0"
UL 94 V-0
00000000
00000

3/8

"
-0.019" to 0.019"
UL 94 V-0
00000000
00000

1/2

"
-0.025" to 0.025"
UL 94 V-0, UL 972
00000000
000000

1/8

"
-0.013" to 0"
UL 94 HB, UL 972
00000000
00000
0.177"
-0.006" to 0.006"
UL 94 HB, UL 972
00000000
00000

1/4

"
-0.026" to 0"
UL 94 HB, UL 972
00000000
00000

3/8

"
-0.019" to 0.019"
UL 94 V-0
00000000
00000

1/2

"
-0.025" to 0.025"
UL 94 V-0, UL 972
00000000
000000

1/8

"
-0.013" to 0"
UL 94 V-2
00000000
00000
0.177"
-0.006" to 0.006"
UL 94 V-2
00000000
00000

1/4

"
-0.026" to 0"
UL 94 V-0
00000000
00000

3/8

"
-0.019" to 0.019"
UL 94 V-0
00000000
000000

1/2

"
-0.025" to 0.025"
UL 94 V-0, UL 972
00000000
000000

1/8

"
-0.013" to 0"
UL 94 V-2
00000000
00000
0.177"
-0.006" to 0.006"
UL 94 V-2
00000000
00000

1/4

"
-0.026" to 0"
UL 94 V-0
00000000
000000

3/8

"
-0.019" to 0.019"
UL 94 V-0
00000000
000000

1/2

"
-0.025" to 0.025"
UL 94 V-0, UL 972
00000000
000000

1/8

"
-0.013" to 0"
UL 94 V-2
00000000
00000
0.177"
-0.006" to 0.006"
UL 94 V-2
00000000
000000

1/4

"
-0.026" to 0"
UL 94 V-0
00000000
000000

3/8

"
-0.019" to 0.019"
UL 94 V-0
00000000
000000

1/2

"
-0.025" to 0.025"
UL 94 V-0, UL 972
00000000
000000

1/8

"
-0.013" to 0"
UL 94 HB, UL 972
00000000
000000
0.177"
-0.006" to 0.006"
UL 94 HB, UL 972
00000000
000000

1/4

"
-0.026" to 0"
UL 94 HB, UL 972
00000000
000000

3/8

"
-0.019" to 0.019"
UL 94 V-0
00000000
000000

1/2

"
-0.025" to 0.025"
UL 94 V-0, UL 972
00000000
000000

1/8

"
-0.013" to 0"
UL 94 HB, UL 972
00000000
000000

1/4

"
-0.026" to 0"
UL 94 HB, UL 972
00000000
000000

3/8

"
-0.019" to 0.019"
UL 94 V-0
00000000
000000

1/2

"
-0.025" to 0.025"
UL 94 V-0, UL 972
00000000
000000
0.177"
-0.006" to 0.006"
UL 94 V-2
00000000
000000