High-Pressure

Oil-Level

and Temperature Indicators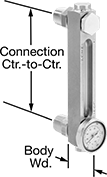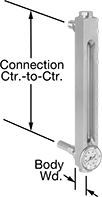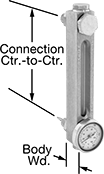 Screw-In/Through-Wall
Mount
Check both the temperature and the hydraulic fluid or oil level in a pressurized system. These indicators are often used in hydraulic systems where overflow is a concern. The aluminum gauge shield protects the glass window from impact.
Screw-in indicators mount from the outside of your tank into threaded pipe or threaded holes.
Through-wall indicators mount from the inside of your tank through unthreaded holes. Secure with nuts on the inside of your tank.
Screw-in/through-wall indicators give you the option to mount from the inside or outside of your tank. Use the mounting nuts on the inside of your tank to attach them through unthreaded holes or thread them into pipe or threaded holes on the tank's outside.
Indicators with a red line emphasize the level of clear liquids, so they're easier to read.
For technical drawings and 3-D models, click on a part number.
Thermometer


Temp.




Range,

°F

Connection


Ctr.-to-Ctr.

Overall


Ht.

Window


Ht.

Body


Wd.

For

Max.


Tank
Wall

Thick.

Max.


Pressure

Min.

Max.

Thermometer
Type

Min.

Max.

Fitting
Material
Window
Material
Features
Includes
Each
5"
6

5/8

"
3

1/2

"
2

1/8

"
__
125 psi @ 70° F
-40°
250°
Dial
50°
300°
Brass
Glass
Red Line
__
00000000
000000
6"
7

5/8

"
4

1/2

"
2

1/8

"
__
125 psi @ 70° F
-40°
250°
Dial
50°
300°
Brass
Glass
Red Line
__
00000000
00000
12"
13

5/8

"
10

1/2

"
2

1/8

"
__
125 psi @ 70° F
-40°
250°
Dial
50°
300°
Brass
Glass
Red Line
__
00000000
00000
15"
16

5/8

"
13

1/2

"
2

1/8

"
__
125 psi @ 70° F
-40°
250°
Dial
50°
300°
Brass
Glass
Red Line
__
00000000
000000
24"
25

5/8

"
22

1/2

"
2

1/8

"
__
125 psi @ 70° F
-40°
250°
Dial
50°
300°
Brass
Glass
Red Line
__
00000000
000000
5"
6

5/8

"
3

1/2

"
2

1/16

"
__
125 psi @ 70° F
-40°
250°
Dial
50°
300°
Brass
Glass
Red Line
__
00000000
00000
6"
7

5/8

"
4

1/2

"
2

1/16

"
__
125 psi @ 70° F
-40°
250°
Dial
50°
300°
Brass
Glass
Red Line
__
00000000
00000
9"
10

5/8

"
7

1/2

"
2

1/16

"
__
125 psi @ 70° F
-40°
250°
Dial
50°
300°
Brass
Glass
Red Line
__
00000000
00000
12"
13

5/8

"
10

1/2

"
2

1/16

"
__
125 psi @ 70° F
-40°
250°
Dial
50°
300°
Brass
Glass
Red Line
__
00000000
00000
15"
16

5/8

"
13

1/2

"
2

1/16

"
__
125 psi @ 70° F
-40°
250°
Dial
50°
300°
Brass
Glass
Red Line
__
00000000
000000
24"
25

5/8

"
22

1/2

"
2

1/16

"
__
125 psi @ 70° F
-40°
250°
Dial
50°
300°
Brass
Glass
Red Line
__
00000000
000000
5"
6

5/8

"
3

1/2

"
1

7/8

"
__
125 psi @ 70° F
-40°
250°
Dial
50°
300°
Brass
Glass
Red Line
__
00000000
00000
6"
7

5/8

"
4

1/2

"
1

7/8

"
__
125 psi @ 70° F
-40°
250°
Dial
50°
300°
Brass
Glass
Red Line
__
00000000
00000
9"
10

5/8

"
7

1/2

"
1

7/8

"
__
125 psi @ 70° F
-40°
250°
Dial
50°
300°
Brass
Glass
Red Line
__
00000000
00000
12"
13

5/8

"
10

1/2

"
1

7/8

"
__
125 psi @ 70° F
-40°
250°
Dial
50°
300°
Brass
Glass
Red Line
__
00000000
00000
15"
16

5/8

"
13

1/2

"
1

7/8

"
__
125 psi @ 70° F
-40°
250°
Dial
50°
300°
Brass
Glass
Red Line
__
00000000
000000
24"
25

5/8

"
22

1/2

"
1

7/8

"
__
125 psi @ 70° F
-40°
250°
Dial
50°
300°
Brass
Glass
Red Line
__
00000000
000000
5"
6

5/8

"
3

1/2

"
1

7/8

"
__
125 psi @ 70° F
-40°
250°
Dial
50°
300°
Brass
Glass
Red Line
__
00000000
00000
6"
7

5/8

"
4

1/2

"
1

7/8

"
__
125 psi @ 70° F
-40°
250°
Dial
50°
300°
Brass
Glass
Red Line
__
00000000
00000
9"
10

5/8

"
7

1/2

"
1

7/8

"
__
125 psi @ 70° F
-40°
250°
Dial
50°
300°
Brass
Glass
Red Line
__
00000000
00000
12"
13

5/8

"
10

1/2

"
1

7/8

"
__
125 psi @ 70° F
-40°
250°
Dial
50°
300°
Brass
Glass
Red Line
__
00000000
00000
15"
16

5/8

"
13

1/2

"
1

7/8

"
__
125 psi @ 70° F
-40°
250°
Dial
50°
300°
Brass
Glass
Red Line
__
00000000
000000
24"
25

5/8

"
22

1/2

"
1

7/8

"
__
125 psi @ 70° F
-40°
250°
Dial
50°
300°
Brass
Glass
Red Line
__
00000000
000000

Through-Wall

Mount—

Aluminum

1/2"-20

UNF Male

Thread—

For

1/2"

Hole

Dia.

(2 Holes)

4"
5

5/8

"
2

1/2

"
1

1/2

"

3/4

"
125 psi @ 70° F
-40°
220°
Dial
50°
300°
Aluminum
Glass
Red Line
Mounting Nuts
0000000
00000
5"
6

5/8

"
3

1/2

"
1

1/2

"

3/4

"
125 psi @ 70° F
-40°
220°
Dial
50°
300°
Aluminum
Glass
Red Line
Mounting Nuts
0000000
00000
6"
7

5/8

"
4

1/2

"
1

1/2

"

3/4

"
125 psi @ 70° F
-40°
220°
Dial
50°
300°
Aluminum
Glass
Red Line
Mounting Nuts
0000000
00000
7"
8

5/8

"
5

1/2

"
1

1/2

"

3/4

"
125 psi @ 70° F
-40°
220°
Dial
50°
300°
Aluminum
Glass
Red Line
Mounting Nuts
0000000
00000
8"
9

5/8

"
6

1/2

"
1

1/2

"

3/4

"
125 psi @ 70° F
-40°
220°
Dial
50°
300°
Aluminum
Glass
Red Line
Mounting Nuts
0000000
00000
12"
13

5/8

"
10

1/2

"
1

1/2

"

3/4

"
125 psi @ 70° F
-40°
220°
Dial
50°
300°
Aluminum
Glass
Red Line
Mounting Nuts
0000000
00000

Screw-In/Through-Wall

Mount—

Aluminum

1/2"-20

UNF Male

Thread—

For

1/2"

Hole

Dia.

(2 Holes)

3"
4

5/8

"
1

3/8

"
1

11/16

"

1/2

"
20 psi @ 70° F
-40°
220°
Scale
60°
180°
Aluminum
Glass
__
Mounting Nuts
0000000
00000
4"
5

5/8

"
2

1/2

"
1

1/2

"

1/2

"
125 psi @ 70° F
-40°
220°
Dial
50°
300°
Aluminum
Glass
Red Line
Mounting Nuts
0000000
00000
5"
6

5/8

"
3

3/8

"
1

11/16

"

1/2

"
20 psi @ 70° F
-40°
220°
Scale
0°
220°
Aluminum
Glass
__
Mounting Nuts
0000000
00000
5"
6

5/8

"
3

1/2

"
1

1/2

"

1/2

"
125 psi @ 70° F
-40°
220°
Dial
50°
300°
Aluminum
Glass
Red Line
Mounting Nuts
0000000
00000
6"
7

5/8

"
4

1/2

"
1

1/2

"

1/2

"
125 psi @ 70° F
-40°
220°
Dial
50°
300°
Aluminum
Glass
Red Line
Mounting Nuts
0000000
00000
7"
8

5/8

"
5

1/2

"
1

1/2

"

1/2

"
125 psi @ 70° F
-40°
220°
Dial
50°
300°
Aluminum
Glass
Red Line
Mounting Nuts
0000000
00000
8"
9

5/8

"
6

1/2

"
1

1/2

"

1/2

"
125 psi @ 70° F
-40°
220°
Dial
50°
300°
Aluminum
Glass
Red Line
Mounting Nuts
0000000
00000
10"
11

5/8

"
8

3/8

"
1

11/16

"

1/2

"
20 psi @ 70° F
-40°
220°
Scale
0°
220°
Aluminum
Glass
__
Mounting Nuts
0000000
00000
12"
13

5/8

"
10

1/2

"
1

1/2

"

1/2

"
125 psi @ 70° F
-40°
220°
Dial
50°
300°
Aluminum
Glass
Red Line
Mounting Nuts
0000000
00000