High-Vacuum

Sights for

Quick-Clamp

Fittings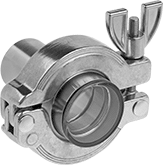 Sight Shown Assembled with Tube
Fitting,
Ring,
and Clamp
(All Sold Separately)
Designed with quick-clamp (KF) connections, these sights connect to a port on a high-vacuum chamber, so you can monitor what's happening inside. A sleeve seals the glass window to the body of the sight to prevent leaks. To connect to your chamber, you'll need a clamp and a ring (sold separately). Not for use in pressure applications.
For technical drawings and 3-D models, click on a part number.

Sight
High-Vacuum


Flange Size
For Flange
OD
High Vacuum
Connection Type

Max.

Vacuum

Dia.

Material

Max.




Temp.,

°F

Each

304 Stainless Steel

16
1.18"
ISO-KF
1 × 10 -9 torr @ 72° F

5/8

"
Glass
660°
0000000
0000000
25
1.57"
ISO-KF
1 × 10 -9 torr @ 72° F

5/8

"
Glass
660°
0000000
000000
40
2.16"
ISO-KF
1 × 10 -9 torr @ 72° F
1

1/4

"
Glass
660°
0000000
000000
50
2.95"
ISO-KF
1 × 10 -9 torr @ 72° F
1

1/4

"
Glass
660°
0000000
000000
For

High-Vacuum


Flange Size
For Flange
OD
For Tube
OD
Material

Max.

Vacuum
High Vacuum
Connection Type
Each
10, 16
1.18"

1/2

",

3/4

"
Aluminum
1 × 10^-7 torr @ 72° F
ISO-KF
00000000
00000
25
1.57"
1"
Aluminum
1 × 10^-7 torr @ 72° F
ISO-KF
0000000
00000
40
2.16"
1

1/2

"
Aluminum
1 × 10^-7 torr @ 72° F
ISO-KF
0000000
00000
50
2.95"
2"
Aluminum
1 × 10^-7 torr @ 72° F
ISO-KF
0000000
00000
For

High-Vacuum


Flange Size
For Flange
OD
For Tube
OD
Inner Ring Material

Max.

Vacuum
High Vacuum
Connection Type
Each
16
1.18"

3/4

"
304 Stainless Steel
1 × 10^-7 torr @ 72° F
ISO-KF
00000000
00000
25
1.57"
1"
304 Stainless Steel
1 × 10^-7 torr @ 72° F
ISO-KF
0000000
00000
40
2.16"
1

1/2

"
304 Stainless Steel
1 × 10^-7 torr @ 72° F
ISO-KF
0000000
00000
50
2.95"
2"
304 Stainless Steel
1 × 10^-7 torr @ 72° F
ISO-KF
0000000
00000