Level Indicators with
Shut-Off

Valve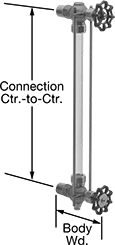 Bronze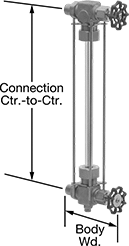 Brass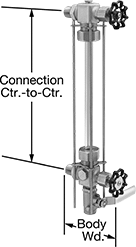 316 Stainless
Steel With
Ball-Valve-Style
Drain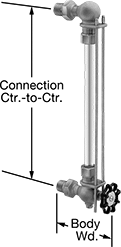 Shut-off valves stop flow so you can clean and replace gauge glass without removing these indicators from your equipment.
316 stainless steel indicators are more corrosion resistant than brass indicators.
Use indicators with stainless steel drain valve on expansion tanks.
Indicators with needle stem have a stem in the lower shut-off valve to clear the orifice as the valve closes.
Indicators with automatic shut-off will temporarily close if the gauge glass breaks. The valves must be closed manually for permanent shut-off.
For technical drawings and 3-D models, click on a part number.
Connection


Ctr.-to-Ctr.

Overall


Ht.

Window


Ht.

Body


Wd.

Drain
Cock


Dia.

Max.


Pressure

Max.


Steam
Pressure

Min.

Max.

For
Use
With

No.

of
Guard
Rods
Specifications
Met
Each
Each

Bronze

3/8

NPT Male Thread with Needle Stem

11

1/4

"
13

5/8

"
7"
3

7/8

"

1/4

"
400 psi @ 70° F
200 psi @ 400° F
35°
400°
Water, Hydraulic Fluid, Salt Water, Steam
2
__
0000000
0000000
0000000
000000

1/2

NPT Male Thread with Needle Stem

13

1/4

"
15

5/8

"
9"
3

15/16

"

1/4

"
400 psi @ 70° F
200 psi @ 400° F
35°
400°
Water, Hydraulic Fluid, Salt Water, Steam
2
__
0000000
000000
0000000
00000

1/2

NPT Male Thread with Needle Stem and Automatic

Shut-Off

13

1/4

"
15

5/8

"
9"
3

15/16

"

1/4

"
400 psi @ 70° F
200 psi @ 400° F
35°
400°
Water, Hydraulic Fluid, Salt Water, Steam
2
__
0000000
000000
0000000
00000

3/4

NPT Male Thread with Needle Stem

17

1/2

"
20"
13"
4

3/16

"

1/4

"
370 psi @ 70° F
200 psi @ 400° F
35°
400°
Water, Hydraulic Fluid, Salt Water, Steam
2
__
0000000
000000
0000000
00000

3/4

NPT Male Thread with Needle Stem and Automatic

Shut-Off

17

1/2

"
20"
13"
4

3/16

"

1/4

"
370 psi @ 70° F
200 psi @ 400° F
35°
400°
Water, Hydraulic Fluid, Salt Water, Steam
2
__
0000000
000000
0000000
00000

Brass

1/2

NPT Male Thread with Needle Stem

14"
16

1/4

"
9"
4

5/8

"

1/4

"
400 psi @ 70° F
200 psi @ 400° F
35°
400°
Water, Hydraulic Fluid, Salt Water, Steam
4
__
0000000
000000
0000000
00000

1/2

NPT Male Thread with Needle Stem and Automatic

Shut-Off

14"
16

1/4

"
9"
4

5/8

"

1/4

"
400 psi @ 70° F
200 psi @ 400° F
35°
400°
Water, Hydraulic Fluid, Salt Water, Steam
4
__
0000000
000000
0000000
00000

3/4

NPT Male Thread with Needle Stem

18"
20

1/4

"
13"
4

5/16

"

1/4

"
370 psi @ 70° F
200 psi @ 400° F
35°
400°
Water, Hydraulic Fluid, Salt Water, Steam
4
__
0000000
000000
0000000
00000

3/4

NPT Male Thread with Needle Stem and Automatic

Shut-Off

18"
20

1/4

"
13"
4

5/16

"

1/4

"
370 psi @ 70° F
200 psi @ 400° F
35°
400°
Water, Hydraulic Fluid, Salt Water, Steam
4
__
0000000
000000
0000000
00000

316 Stainless Steel

1/2

NPT Male Thread with Stainless Steel Drain Valve

14"
15

3/4

"
10

1/4

"
3

15/16

"
__
250 psi @ 400° F
250 psi @ 400° F
35°
400°
Water, Hydraulic Fluid, Steam
2
__
000000
000000
0000000
00000

1/2

NPT Male Thread with

Ball-Valve-Style

Drain and Automatic

Shut-Off

14"
18

1/16

"
10"
4

7/8

"
__
410 psi @ 70° F
305 psi @ 400° F
35°
400°
Water, Hydraulic Fluid, Acetic Acid, Alcohol-Based Solvents, Ketone, Steam
4
ASME BPVC.I
0000000
000000
0000000
00000

3/4

NPT Male Thread with Stainless Steel Drain Valve

14"
15

3/4

"
10

1/4

"
3

7/8

"
__
250 psi @ 400° F
250 psi @ 400° F
35°
400°
Water, Hydraulic Fluid, Steam
2
__
000000
000000
0000000
00000

3/4

NPT Male Thread with

Ball-Valve-Style

Drain and Automatic

Shut-Off

18"
22

1/16

"
12"
4

13/16

"
__
370 psi @ 70° F
280 psi @ 400° F
35°
400°
Water, Hydraulic Fluid, Acetic Acid, Alcohol-Based Solvents, Ketone, Steam
4
ASME BPVC.I
0000000
00000000
0000000
00000