Liquid-Level

Gauges for Drums
Measure water, hydraulic fluid, or diesel fuel level in your drum.
Gauges with 316 stainless steel float rods are more corrosion resistant than gauges with zinc-plated steel float rods.
Vertical-mount gauges install through the top opening of your drum. Their indicator moves up as your drum fills. Check the indicator against the graduation marks to see how full your drum is and if you need to fill or drain it. Plastic protects the indicator's movement, saving you from inaccurate readings. These gauges also measure your liquid in gallons and liters.
Horizontal-mount gauges install by attaching one pipe connection to the opening of a horizontal drum. Attach a drain or valve to the pipe connection on the other end. They have sliding markers for calibration and measure your liquid in gallons and liters.
Alarms can be set to flash and sound at levels critical to your system.
Remote-reading displays let you check readings from up to 100 ft. away. They have an alarm that sounds when the level is too high or too low.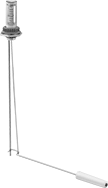 Vertical Mount

Horizontal Mount
For Drum


Capacity,




gal.

For
Drum


Dp.

Pipe
Size

Thread
Type
Gender

Dp.

Ht.

Window


Ht.

Max.




Pressure,


psi

Min.

Max.

Float
Material
Housing
Material
Window
Material
Graduation
Marks
Each

Vertical Mount

Zinc-Plated

Steel Float Rod

30
27

1/2

"

3/4

NPT

Male
2

1/2

"
18

1/2

"
3"
70
-20°
110°
Buna-N Rubber
Cellulose Acetate Plastic
Plastic
Full,

7/8

,

3/4

,

5/8

,

1/2

,

3/8

,

1/4

,

1/8

, Empty
0000000
000000
30
27

1/2

"
2

NPT

Male
2

1/2

"
18

1/2

"
3"
70
-20°
110°
Polyethylene Plastic
Cellulose Acetate Plastic
Plastic
Full,

7/8

,

3/4

,

5/8

,

1/2

,

3/8

,

1/4

,

1/8

, Empty
0000000
00000
55
33

1/2

"

3/4

NPT

Male
2

1/2

"
21

1/2

"
3"
70
-20°
110°
Buna-N Rubber
Cellulose Acetate Plastic
Plastic
Full,

7/8

,

3/4

,

5/8

,

1/2

,

3/8

,

1/4

,

1/8

, Empty
0000000
00000
55
33

1/2

"
2

NPT

Male
2

1/2

"
21

1/2

"
3"
70
-20°
110°
Polyethylene Plastic
Cellulose Acetate Plastic
Plastic
Full,

7/8

,

3/4

,

5/8

,

1/2

,

3/8

,

1/4

,

1/8

, Empty
0000000
00000

316 Stainless Steel Float Rod

30
27

1/2

"

3/4

NPT

Male
2

1/2

"
18

1/2

"
3"
70
-20°
110°
Buna-N Rubber
Cellulose Acetate Plastic
Plastic
Full,

7/8

,

3/4

,

5/8

,

1/2

,

3/8

,

1/4

,

1/8

, Empty
0000000
000000
30
27

1/2

"
2

NPT

Male
2

1/2

"
18

1/2

"
3"
70
-20°
110°
Polyethylene Plastic
Cellulose Acetate Plastic
Plastic
Full,

7/8

,

3/4

,

5/8

,

1/2

,

3/8

,

1/4

,

1/8

, Empty
0000000
000000
55
33

1/2

"

3/4

NPT

Male
2

1/2

"
21

1/2

"
3"
70
-20°
110°
Buna-N Rubber
Cellulose Acetate Plastic
Plastic
Full,

7/8

,

3/4

,

5/8

,

1/2

,

3/8

,

1/4

,

1/8

, Empty
0000000
000000
55
33

1/2

"
2

NPT

Male
2

1/2

"
21

1/2

"
3"
70
-20°
110°
Polyethylene Plastic
Cellulose Acetate Plastic
Plastic
Full,

7/8

,

3/4

,

5/8

,

1/2

,

3/8

,

1/4

,

1/8

, Empty
0000000
000000

Horizontal Mount

Steel Fitting

55
__

3/4

NPT

Male
4

1/2

"
22

1/8

"
19

5/8

"
Not Rated
35°
150°
__
Aluminum
Glass
5 L, 1 gal.
0000000
00000

PVC Plastic Fitting

55
__

3/4

NPT

Male
4"
22

1/8

"
19

5/8

"
Not Rated
40°
140°
__
Aluminum
Glass
5 L, 1 gal.
0000000
00000

304 Stainless Steel Fitting

55
__

3/4

NPT

Male
4

1/2

"
22

1/8

"
19

5/8

"
Not Rated
35°
150°
__
Aluminum
Glass
5 L, 1 gal.
0000000
00000
Alarms for Vertical-Mount Gauges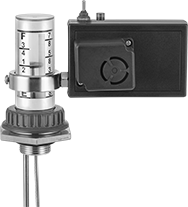 Direct-Mount
Alarm Shown with Gauge
(Sold Separately)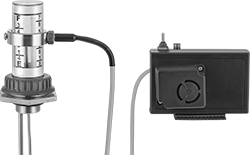 Remote-Mount
Alarm Shown with Gauge
(Sold Separately)
Cord


Length,

ft.

Signal Type
Color
Pattern

No.


of
Bulb
Type
Volume
Housing
Material
Batteries
Included
Each

Direct Mount

__
Audible Alarm, Signal Light
Red
Flashing
1
LED
110 dB
ABS Plastic
Yes
00000000
0000000

Remote Mount

25
Audible Alarm, Signal Light
Red
Flashing
1
LED
110 dB
ABS Plastic
Yes
00000000
000000
50
Audible Alarm, Signal Light
Red
Flashing
1
LED
110 dB
ABS Plastic
Yes
00000000
000000
75
Audible Alarm, Signal Light
Red
Flashing
1
LED
110 dB
ABS Plastic
Yes
00000000
000000
100
Audible Alarm, Signal Light
Red
Flashing
1
LED
110 dB
ABS Plastic
Yes
00000000
000000
Remote-Reading Displays for Vertical-Mount Gauges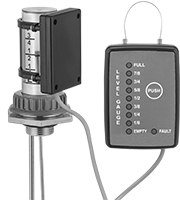 Remote-Reading
Display Shown with Gauge
(Sold Separately)
Cord


Length,




ft.

Signal
Type
Display
Type
Color
Indicator
Display
Type

No.


of
Volume
Housing
Material
Batteries
Included
Each
25
Audible Alarm
Light Indicator
Green/Red/Yellow
LED
9
0 dB, 90 dB, 100 dB
ABS Plastic
Yes
00000000
0000000
50
Audible Alarm
Light Indicator
Green/Red/Yellow
LED
9
0 dB, 90 dB, 100 dB
ABS Plastic
Yes
00000000
000000
75
Audible Alarm
Light Indicator
Green/Red/Yellow
LED
9
0 dB, 90 dB, 100 dB
ABS Plastic
Yes
00000000
000000
100
Audible Alarm
Light Indicator
Green/Red/Yellow
LED
9
0 dB, 90 dB, 100 dB
ABS Plastic
Yes
00000000
000000