Shatter-Resistant

Oil-Level

and Temperature Indicators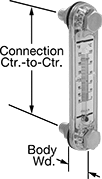 Nylon Plastic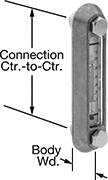 Nylon Plastic With Aluminum Guard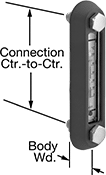 Nylon Plastic With
Glass-Filled
Nylon Guard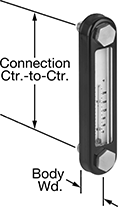 Nylon Plastic With Steel Guard
The nylon body and window make these indicators shatter resistant. Use them to simultaneously monitor hydraulic fluid or oil level and temperature. All are UV resistant for use outdoors.
Indicators with a glass-filled nylon or aluminum guard, or no guard, mount from the inside of your tank through unthreaded holes. Glass-filled nylon guards are more impact resistant than aluminum guards.
Indicators with a steel guard have a lower profile and can withstand higher pressure than other indicators. Mount them from the outside of your tank through threaded holes.
Thermometer


Temp.




Range,

°F

Connection


Ctr.-to-Ctr.

Overall


Ht.

Window


Ht.

Body


Wd.

For

Max.


Tank
Wall

Thick.

Max.


Pressure

Min.

Max.

Min.

Max.

Window
Material
Includes
Each

Nylon Plastic

For

1/2"

Hole

Dia.

(2 Holes)

3"
4

1/4

"
2

1/16

"

13/16

"

1/2

"
10 psi @ 70° F
-65°
210°
30°
210°
Nylon Plastic
Mounting Nuts
0000000
000000
5"
6

1/4

"
4

1/16

"

13/16

"

1/2

"
10 psi @ 70° F
-65°
210°
30°
210°
Nylon Plastic
Mounting Nuts
0000000
00000
10"
11

1/4

"
9

1/16

"

13/16

"

1/2

"
10 psi @ 70° F
-65°
210°
30°
210°
Nylon Plastic
Mounting Nuts
0000000
00000

Nylon Plastic with Aluminum Guard

For

1/2"

Hole

Dia.

(2 Holes)

3"
4

3/4

"
2

1/16

"

15/16

"

1/2

"
10 psi @ 70° F
-65°
210°
30°
210°
Nylon Plastic
Mounting Nuts
0000000
00000
5"
6

3/4

"
4

1/16

"

15/16

"

1/2

"
10 psi @ 70° F
-65°
210°
30°
210°
Nylon Plastic
Mounting Nuts
0000000
00000
10"
11

3/4

"
9

1/16

"

15/16

"

1/2

"
10 psi @ 70° F
-65°
210°
30°
210°
Nylon Plastic
Mounting Nuts
0000000
00000

Nylon Plastic with

Glass-Filled

Nylon Plastic Guard

For

1/2"

Hole

Dia.

(2 Holes)

5"
6

3/4

"
4

1/16

"

15/16

"

1/2

"
10 psi @ 70° F
-65°
210°
30°
210°
Nylon Plastic
Mounting Nuts
0000000
00000

Nylon Plastic with Steel Guard

For

1/2"

Hole

Dia.

(2 Holes)

5"
6

3/8

"
3

7/8

"

13/16

"

1/2

"
50 psi @ 70° F
-40°
210°
0°
220°
Nylon Plastic
__
0000000
00000