Coated Work Gloves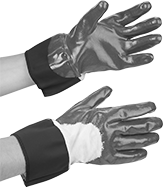 E
The coating on these gloves provides extra protection without limiting dexterity. It also provides a secure grip.
Cotton and cotton/polyester blend gloves are breathable and can be comfortably worn for long periods of time.
Palm-coated gloves have an uncoated back side that makes the gloves more comfortable and breathable. Nitrile-coated gloves are more durable than latex-coated gloves and provide chemical as well as oil resistance. They are a good alternative for those concerned about latex allergies. Gloves with open cuffs are more convenient to put on and take off than other gloves.