How to

Identify and Measure Fittings
Pipe size is an industry designation, not the actual size. View information about how to measure threaded and unthreaded pipe and pipe fittings.
Hose Crimping Tool and Fitting Sets for Compressed Gas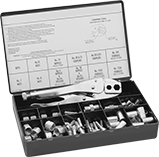 Sets contain a crimping tool and a variety of fittings, nuts, and ferrules so you can connect pressure regulators, torches, and other components of your welding system. Fittings are also known as CGA (Compressed Gas Association) fittings. They are brass for good corrosion resistance.
Barbed adapters let you adapt to a threaded end so you can connect welding hose to pressure regulators or torches. They consist of a barbed shaft with a rounded end that sits inside a threaded nut so you can make a threaded hose connection.
Barbed connectors are also known as hose menders and splicers. Use them to connect lengths of hose or to repair damaged hose. Slide the barbed end into welding hose and use a hose ferrule and the crimping tool to secure the fitting to hose.
Threaded connectors let you attach threaded welding hose to pressure regulators and torches.
Fittings with left-hand threads are identified with a notch in the nut.
Note: Fittings have a CGA number that corresponds to a specific type of gas. Choose a fitting with the same CGA number as your tank and other system components.
For
Hose
ID

No.


of
Pieces
Includes

Max.


Pressure
For
Use
With
Each

Brass

3/16

",

1/4

"
93
Crimping Tool
Eight barbed hose adapters for

3/16

" hose ID (use with A-size nuts)
Six barbed hose adapters for

3/16

" hose ID (use with B-size nuts)
Ten barbed hose adapters for

1/4

" hose ID (use with B-size nuts)
Two barbed hose connectors for

3/16

" hose ID
Four barbed hose connectors for

1/4

" hose ID
One A-size

3/8

"-24 male right-hand threaded connector (CGA-020)
One A-size

3/8

"-24 male left-hand threaded connector (CGA-021)
One B-size

9/16

"-18 male right-hand threaded connector (CGA-022)
One B-size

9/16

"-18 male left-hand threaded connector (CGA-023)
Four A-size

3/8

"-24 right-hand threaded nuts (CGA-020)
Four A-size

3/8

"-24 left-hand threaded nuts (CGA-021)
Eight B-size

9/16

"-18 female right-hand threaded nuts (CGA-022)
Eight B-size

9/16

"-18 female left-hand threaded nuts (CGA-023)
Twelve ferrules with 0.45" hose end ID
Ten ferrules with 0.562" hose end ID
Twelve ferrules with 0.593" hose end ID
200 psi @ 72° F
Acetylene, Butane, Fuel Gases, LP Gas, Natural Gas, Oxygen, Propane
0000000
0000000

5/16

",

3/8

"
71
Crimping Tool
Eight barbed hose adapters for

5/16

" hose ID (use with B-size nuts)
Eight barbed hose adapters for

3/8

" hose ID (use with B-size nuts)
Two barbed hose connectors for

5/16

" hose ID
Two barbed hose connectors for

3/8

" hose ID
One B-size

9/16

"-18 male right-hand threaded connector (CGA-022)
One B-size

9/16

"-18 male left-hand threaded connector (CGA-023)
Eight B-size

9/16

"-18 female right-hand threaded nuts (CGA-022)
Eight B-size

9/16

"-18 female left-hand threaded nuts (CGA-023)
Eight ferrules with 0.625" hose end ID
Eight ferrules with 0.656" hose end ID
Six ferrules with 0.687" hose end ID
Eight ferrules with 0.718" hose end ID
200 psi @ 72° F
Acetylene, Butane, Fuel Gases, LP Gas, Natural Gas, Oxygen, Propane
0000000
000000