Utility Knife Blades

1

2

3

4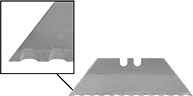 5

6

7
11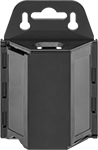 Dispenser Pack
Make quick, shallow cuts with these short blades. Check the style of the blade used in your knife and match it with the images shown here.
High-speed steel blades last longer than steel blades. Those with a titanium-nitride finish last even longer than high-speed steel blades without a finish. They also resist corrosion and are nonstick.
Serrated blades allow for faster cuts with less force than straight blades.
Dispenser distributes one blade at a time and it can be mounted on a wall.
For technical drawings and 3-D models, click on a part number.

1

2

3

4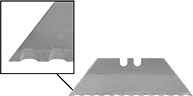 5

6

7
11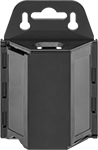 Dispenser Pack
Lg.

Wd.

Thick.

Material
Edge
Includes

Pkg.




Qty.

Pkg.

For Use On

Cardboard,

Cork,

Fabric,

Leather,

Paper,

Plastic,

Rubber

1
2

3/8

"

3/4

"
0.024"
Steel
Straight
__
100
00000000
000000
1
2

3/8

"

3/4

"
0.025"
Steel
Straight
__
5
00000000
0000
1
2

3/8

"

3/4

"
0.025"
Steel
Straight
__
100
00000000
00000
1
2

3/8

"

3/4

"
0.036"
Stainless Steel
Straight
__
100
0000000
000000
1
2

1/2

"

3/4

"
0.025"
High-Speed Steel
Straight
__
5
0000000
0000
1
2

1/2

"

3/4

"
0.025"
High-Speed Steel
Straight
Dispenser
100
0000000
00000
2
2"

3/4

"
0.018"
Steel
Straight
__
5
0000000
0000
2
2"

3/4

"
0.025"
Steel
Straight
__
5
0000000
0000
2
2

1/4

"

3/4

"
0.018"
Steel
Straight
__
100
0000000
00000
2
2

1/4

"

3/4

"
0.018"
Steel
Straight
Dispenser
100
00000000
00000
3
2

3/8

"

3/4

"
0.025"
Titanium Nitride (TiN) Coated High-Speed Steel
Straight
__
5
0000000
0000
3
2

3/8

"

3/4

"
0.025"
Titanium Nitride (TiN) Coated High-Speed Steel
Straight
Dispenser
100
0000000
00000
4
2

5/16

"

3/4

"
0.024"
Steel
Straight
__
5
00000000
0000
4
2

5/16

"

3/4

"
0.024"
Steel
Straight
__
100
00000000
00000
4
2

5/16

"

3/4

"
0.024"
Steel
Straight
Dispenser
100
00000000
00000
5
2

1/2

"

3/4

"
0.025"
Steel
Serrated
__
5
0000000
0000
5
2

1/2

"

3/4

"
0.025"
Steel
Serrated
__
50
0000000
00000
5
2

1/2

"

3/4

"
0.025"
Steel
Serrated
Dispenser
100
0000000
00000
6
2"

3/4

"
0.025"
Steel
Straight
__
5
00000000
0000
6
2"

3/4

"
0.025"
Steel
Straight
__
100
00000000
00000
7
1

7/8

"

3/4

"
0.025"
Steel
Straight
__
5
00000000
0000
7
1

7/8

"

3/4

"
0.025"
Steel
Straight
__
100
00000000
00000
11
2"

3/4

"
0.025"
Steel
Straight
__
100
0000000
00000
11
2"

3/4

"
0.025"
Steel
Straight
Dispenser
100
00000000
00000
Stanley Utility Knife Blades

1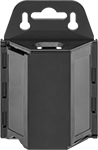 Dispenser Pack
For

Mfr.


Model


No.

Lg.

Wd.

Thick.

Material
Edge

Mfr.


Model
Number
Includes

Pkg.




Qty.

Pkg.

For Use On

Cardboard,

Cork,

Fabric,

Leather,

Paper,

Plastic,

Rubber

1
10-079, 10-099, 10-179, 10-189, 10-193, 10-209, 10-299, 10-399, 10-432, 10-499, 10-778, 10-779, 10-788, 10-813, 10-989
2

1/2

"

3/4

"
0.024"
Steel
Straight
11-921
__
5
0000000
00000
1
10-079, 10-099, 10-179, 10-189, 10-193, 10-209, 10-299, 10-399, 10-432, 10-499, 10-778, 10-779, 10-788, 10-813, 10-989
2

1/2

"

3/4

"
0.024"
Steel
Straight
11-921
Dispenser
100
0000000
00000