Pegboards for Workbenches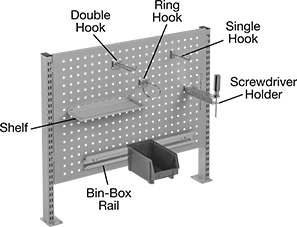 Keep tools visible and organized above a workbench. Mount posts to the top of a workbench, connect panels to the posts, and add accessories. Pegboard holes are 5/16" square and are on 1 1/2" centers.
Bin-box rails are only compatible with 36", 60", and 72" wide pegboards.
Wd.

Ht.

Cap.,




lbs.

Color

No.


of
Panels

Ht.

Clearance

No.


of
Posts

Wd.

Ht.

Ctr.-to-Ctr.

No.


of

Dia.

Mtg.


Fasteners
Included
Assembled
or
Unassembled
Each
24"
31"
110
Gray
1
24"
7"
2

5/16

"

5/16

"
1

1/2

"
8

3/8

"
Yes
Unassembled
0000000
0000000
36"
31"
110
Gray
1
24"
7"
2

5/16

"

5/16

"
1

1/2

"
8

3/8

"
Yes
Unassembled
0000000
000000
48"
31"
110
Gray
2
24"
7"
3

5/16

"

5/16

"
1

1/2

"
12

3/8

"
Yes
Unassembled
0000000
000000
60"
31"
110
Gray
2
24"
7"
3

5/16

"

5/16

"
1

1/2

"
12

3/8

"
Yes
Unassembled
0000000
000000
72"
31"
110
Gray
2
24"
7"
3

5/16

"

5/16

"
1

1/2

"
12

3/8

"
Yes
Unassembled
0000000
000000