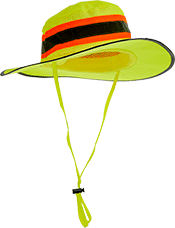 Fluorescent Yellow
(Mesh)
Bright colors and a 2" reflective stripe make workers stand out in low-visibility areas. Hats are polyester mesh to provide comfort and breathability to keep you cool.
When measuring head circumference, measure just above your ear, where the hat will rest. If you are between sizes, order one size up.
Hard Hats
These Type I hard hats protect against blows from falling objects to the top of the head only.
Class E hard hats are proof-tested at 20,000 volts. Class C have not been tested for electrical protection.
Hard hats with a three-point chin strap stay securely on your head. They're often worn at heights and in windy conditions, and during active movement such as climbing, working sideways, and working upside down. These hard hats have a foam shell that absorbs impact to reduce force on the neck and head.
Hard hats with ventilation holes have slots that increase air circulation to keep you cool.
Hard hats with mounting slots attach to face shields and earmuffs (not included).
Hard hats come with four-, six-, or eight-point suspensions—the more suspension points, the better the hard hat distributes the force of impact. Ratchet suspensions adjust with an easy-turn knob.