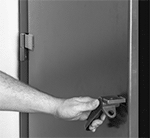 Left Side
Door-Mounting
Location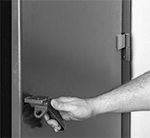 Right Side
Door-Mounting
Location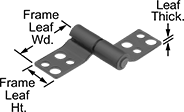 1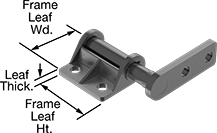 2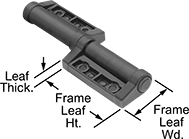 5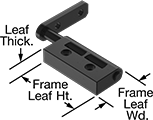 3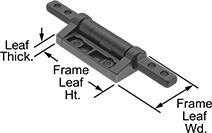 4
These hinges allow 360° of motion. Constant resistance through the full range of motion holds lids, panels, and doors at any angle. All hinges have a nonremoveable pin to deter tampering. To choose a door mounting location, stand on the pull side of the door—use a right-side hinge if the hinge is on the right or a left-side hinge if it's on the left.
Zinc hinges have mild corrosion resistance.
For technical drawings and 3-D models, click on a part number.
Ht.

Wd.

Ht.

Wd.

Leaf


Thick.

Torque,




in.-lbs.

Pin


Dia.

Pin
Material
Mounting
Fasteners
Included

No.

of
Mounting
Holes
Mounting
Hole
Style
Mounting
Screw
Size

Each

Left Side Door Mounting Location

Black Painted Carbon Steel

1

1/2

"

7/8

"

1/2

"

7/8

"
0.047"
5

3/16

"
Steel
No
8
Straight
No. 4, No. 8
000000
000000

Black Painted Zinc

2

5/16

"

7/8

"

23/32

"

5/8

"
0.080"
4

3/16

"
Steel
No
4
Straight
No. 4

000000
00000
2

3/8

"
1

9/16

"
2"
1"
0.281"
20

3/8

"
Steel
No
4
Straight
No. 8

000000
00000
5
2"
1"
2"
1"
0.281"
30

3/8

"
Steel
No
4
Straight
No. 8

0000000
00000

Right Side Door Mounting Location

Black Painted Carbon Steel

1

1/2

"

7/8

"

1/2

"

7/8

"
0.047"
5

3/16

"
Steel
No
8
Straight
No. 4, No. 8
000000
00000

Black Painted Zinc

2

5/16

"

7/8

"

11/16

"

5/8

"
0.078"
4

3/16

"
Steel
No
4
Straight
No. 4

000000
00000
2

3/8

"
1

9/16

"
2"
1"
0.281"
20

3/8

"
Steel
No
4
Straight
No. 8

000000
00000
5
2"
1"
2"
1"
0.281"
30

3/8

"
Steel
No
4
Straight
No. 8

0000000
00000
Reversible Door
Mounting
Location

Ht.

Wd.

Ht.

Wd.

Leaf


Thick.

Torque,




in.-lbs.

Pin


Dia.

Pin
Material
Mounting
Fasteners
Included

No.

of
Mounting
Holes
Mounting
Hole
Style
Mounting
Screw
Size

Each

Black Painted Zinc

3

7/16

"
1

3/8

"
1

5/8

"

13/16

"
0.375"
10

1/4

"
Steel
No
4
Straight
No. 4, No. 8
000000
000000
4
1"

3/8

"
2"
1"
0.281"
20

3/8

"
Steel
No
6
Straight
No. 8

0000000
00000