Adjustable Heavy Duty Hinges without Holes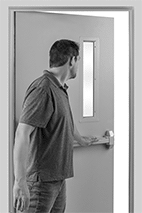 Left-Side
Door Mounting Location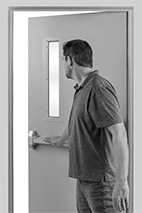 Right-Side
Door Mounting Location

Turn a set screw to adjust the door 1/8" up or down after it's hung. Thick leaves and a large diameter pin make these hinges good for use with heavy doors. Bearings allow the hinges to open and close heavy doors smoothly. The hinges are load rated; capacity is based on two hinges per door. All have a nonremovable pin to deter tampering. To choose a door mounting location, stand on the push side of the door—use a right-side hinge if the hinge is on the right or a left-side hinge if it's on the left.
304 stainless steel hinges are more corrosion resistant than primed low-carbon steel. They also have good chemical resistance.
For technical drawings and 3-D models, click on a part number.
Ht.

Wd.

Ht.

Wd.

O'all




Wd.

Leaf


Thick.

Range
of Motion
Daily
Openings

Capacity,




lbs.

Pin


Dia.

Pin
Material
Each

Left Side Door Mounting Location

5"
2

1/8

"
5"
2

1/8

"
4

1/4

"
0.375"
180°
270
1,000

1/2

"
Steel
0000000
0000000
5"
3

9/32

"
5"
3

9/32

"
6

9/16

"
0.500"
180°
270
3,000
1"
Steel
0000000
000000
5"
2

1/8

"
5"
2

1/8

"
4

1/4

"
0.375"
180°
270
1,000

1/2

"
Steel
00000000
000000

Right Side Door Mounting Location

5"
2

1/8

"
5"
2

1/8

"
4

1/4

"
0.375"
180°
270
1,000

1/2

"
Steel
0000000
000000
5"
3

9/32

"
5"
3

9/32

"
6

9/16

"
0.500"
180°
270
3,000
1"
Steel
0000000
000000
5"
2

1/8

"
5"
2

1/8

"
4

1/4

"
0.375"
180°
270
1,000

1/2

"
Steel
00000000
000000