Concealed
Mortise-Mount

Entry Door Hinges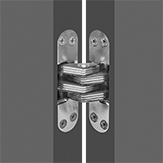 These hinges are completely hidden when the door is closed. The hinge leaves fit into two cutouts (mortises) to mount flush with door and frame edges. All of these hinges have mild corrosion resistance. They also have a nonremovable pin to deter tampering.
Router guide (sold separately) is a template for making cutouts.
For technical drawings and 3-D models, click on a part number.
Ht.

Wd.

Ht.

Wd.

Leaf


Thick.

Range
of
Motion
For

Min.


Door


Thick.

For
Cutout


Dp.

Pin
Material
Mounting
Fasteners
Included
Each
Each
4

5/8

"
1"
4

5/8

"
1"
0.469"
180°
1

3/8

"
1

7/16

"
Steel
Yes
0000000
000000
00000000
000000
4

5/8

"
1

1/8

"
4

5/8

"
1

1/8

"
0.406"
180°
1

3/4

"
1

5/8

"
Steel
Yes
0000000
00000
00000000
00000
4

5/8

"
1"
4

5/8

"
1"
0.469"
180°
1

3/8

"
1

7/16

"
Steel
Yes
0000000
00000
00000000
00000
4

5/8

"
1

1/8

"
4

5/8

"
1

1/8

"
0.406"
180°
1

3/4

"
1

5/8

"
Steel
Yes
0000000
00000
00000000
00000