About
U-Joints
(Universal Joints)
U-joints are used to connect two shafts that have a high amount of misalignment.
Constant-Velocity

Single

U-Joints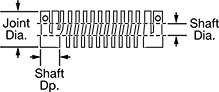 Keep shafts moving in sync with these U-joints—a flexible spring at the center stabilizes input and output speed and reduces vibration. This spring design compensates for more misalignment than the rigid connection in a standard single U-joint. However, these U-joints can't handle as much torque. They're often used for frequent assembly changes, since you can quickly loosen the clamping screw to move them. The nonmarring screw holds U-joints in place without damaging shafts.
These U-joints have zero backlash, meaning that the motion from the input shaft is transferred completely to the output shaft. This allows your machines to run smoothly, without delays during stops and starts. They don't require lubrication, so they are easier to maintain than lubricated U-joints and are less likely to gather dust or debris. This makes them a good choice for use with medical equipment, optical devices, and other sensitive equipment.
U-joints with a 90° maximum operating angle can be used in place of a gearbox, which saves space and costs you less.
Dia.

Dp.

Joint


Dia.

Overall


Lg.

Max.

Speed

Max.

Torque,




in.-lbs.

3°

Operating
Angle

10°

Operating
Angle
Parallel Misalignment
Capability
Each

1/4

"

5/16

"

3/4

"
1

1/2

"
Not Rated
15
Not Rated
Not Rated
0.063"
0000000
000000

3/8

"

7/16

"
1"
2"
Not Rated
38
Not Rated
Not Rated
0.094"
0000000
000000

1/2

"

9/16

"
1

1/4

"
2

1/2

"
Not Rated
81
Not Rated
Not Rated
0.125"
0000000
000000

1/4

"

3/8

"

3/4

"
2

3/8

"
Not Rated
15
Not Rated
Not Rated
0.313"
0000000
000000

3/8

"

7/16

"
1"
2

7/8

"
Not Rated
38
Not Rated
Not Rated
0.375"
0000000
000000

1/2

"

9/16

"
1

1/4

"
3

7/8

"
Not Rated
81
Not Rated
Not Rated
0.438"
0000000
000000