About Rod Ends

Corrosion-Resistant

Clevis Rod Ends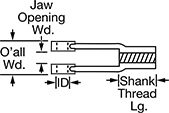 These clevis rod ends offer more corrosion resistance than standard steel clevis rod ends. Also called yoke-end linkages, they support pivoting movement along one axis when threaded onto shafts, rods, valve pistons, and other assemblies.
Zinc-plated steel rod ends offer moderate corrosion resistance. Stainless steel rod ends offer excellent corrosion resistance.
For technical drawings and 3-D models, click on a part number.
Shank
Thread
Size

ID
Jaw
Opening


Wd.

O'all




Wd.

Shank
Center


Lg.

Shank
Thread


Lg.

Jaw
Center


Lg.

Tensile


Strength,


psi

Includes
Shank
Thread
Direction
Each
10-32

3/16

"

3/16

"

7/16

"
1

9/16

"

9/16

"
1"
58,000
Clevis Pin, Cotter Pin
Right Hand
0000000
000000

1/4

"-20

1/4

"

1/4

"

5/8

"
2"

3/4

"
1

1/4

"
58,000
Clevis Pin, Cotter Pin
Right Hand
0000000
0000

1/4

"-28

1/4

"

1/4

"

5/8

"
2"

3/4

"
1

1/4

"
58,000
Clevis Pin, Cotter Pin
Right Hand
0000000
0000

5/16

"-18

5/16

"

5/16

"

3/4

"
2

1/4

"

13/16

"
1

7/16

"
58,000
Clevis Pin, Cotter Pin
Right Hand
0000000
0000

5/16

"-24

5/16

"

5/16

"

3/4

"
2

1/4

"

13/16

"
1

7/16

"
58,000
Clevis Pin, Cotter Pin
Right Hand
0000000
0000

3/8

"-16

3/8

"

7/16

"

7/8

"
2

1/2

"

7/8

"
1

5/8

"
58,000
Clevis Pin, Cotter Pin
Right Hand
0000000
00000

3/8

"-24

3/8

"

7/16

"

7/8

"
2

1/2

"

7/8

"
1

5/8

"
58,000
Clevis Pin, Cotter Pin
Right Hand
0000000
00000

3/8

"-24

1/2

"

9/16

"
1

1/8

"
3"
1

1/8

"
1

7/8

"
58,000
Clevis Pin, Cotter Pin
Right Hand
0000000
00000

7/16

"-20

7/16

"

1/2

"
1"
2

7/8

"
1"
1

7/8

"
Not Rated
Clevis Pin, Cotter Pin
Right Hand
0000000
00000

1/2

"-13

1/2

"

9/16

"
1

1/8

"
3"
1

1/8

"
1

7/8

"
Not Rated
Clevis Pin, Cotter Pin
Right Hand
0000000
00000

1/2

"-20

1/2

"

9/16

"
1

1/8

"
3"
1

1/8

"
1

7/8

"
58,000
Clevis Pin, Cotter Pin
Right Hand
0000000
00000

1/2

"-20

1/2

"

9/16

"
1

1/8

"
4

3/16

"
1

1/16

"
3

1/8

"
58,000
Clevis Pin, Cotter Pin
Right Hand
0000000
00000

1/2

"-20

1/2

"
1

1/8

"
1

7/8

"
3"
1

3/8

"
1

5/8

"
58,000
Clevis Pin, Cotter Pin
Right Hand
0000000
00000

5/8

"-11

5/8

"

11/16

"
1

3/8

"
4

15/16

"
1

1/4

"
3

11/16

"
Not Rated
Clevis Pin, Cotter Pin
Right Hand
0000000
00000

5/8

"-18

5/8

"

11/16

"
1

3/8

"
4

15/16

"
1

1/4

"
3

11/16

"
58,000
Clevis Pin, Cotter Pin
Right Hand
0000000
00000

3/4

"-10

5/8

"

11/16

"
1

1/2

"
4"
1

1/4

"
2

3/4

"
Not Rated
Clevis Pin, Cotter Pin
Right Hand
0000000
00000

3/4

"-10

3/4

"

13/16

"
1

5/8

"
6

1/16

"
1

1/2

"
4

9/16

"
Not Rated
Clevis Pin, Cotter Pin
Right Hand
0000000
00000

3/4

"-16

3/4

"

13/16

"
1

5/8

"
6

1/16

"
1

1/2

"
4

9/16

"
58,000
Clevis Pin, Cotter Pin
Right Hand
0000000
00000

316 Stainless Steel

10-24

3/16

"

3/16

"

7/16

"
1

9/16

"

9/16

"
1"
80,000
Clevis Pin, Cotter Pin
Right Hand
0000000
0000

1/4

"-28

1/4

"

1/4

"

5/8

"
2"

3/4

"
1

1/4

"
80,000
Clevis Pin, Cotter Pin
Right Hand
0000000
00000

5/16

"-24

5/16

"

5/16

"

3/4

"
2

1/4

"

13/16

"
1

7/16

"
80,000
Clevis Pin, Cotter Pin
Right Hand
0000000
00000

3/8

"-24

3/8

"

7/16

"

7/8

"
2

1/2

"

7/8

"
1

5/8

"
80,000
Clevis Pin, Cotter Pin
Right Hand
0000000
00000

1/2

"-20

1/2

"

9/16

"
1

1/8

"
3"
1

1/8

"
1

7/8

"
80,000
Clevis Pin, Cotter Pin
Right Hand
0000000
00000

5/8

"-11

5/8

"

11/16

"
1

3/8

"
4

15/16

"
1

1/4

"
3

11/16

"
80,000
Clevis Pin, Cotter Pin
Right Hand
0000000
00000

3/4

"-10

3/4

"

13/16

"
1

5/8

"
6

1/16

"
1

1/2

"
4

9/16

"
80,000
Clevis Pin, Cotter Pin
Right Hand
0000000
000000