Corrosion-Resistant

Mil.

Spec.

Machinable-Bore

Single

U-Joints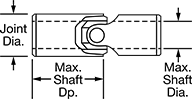 Made to meet strict military standards for material and construction, these stainless steel U-joints also balance strength with good corrosion resistance. Customize their bores until they fit your shafts. They come apart and have a small, centered starter hole on each end to make drilling easy. Because they're single U-joints, they connect and transfer torque between two shafts that are misaligned at an angle. They have a pin-and-block joint, so they handle higher torque at lower speeds than other joint types such as those with needle bearings, making them a good choice for most applications.
Drill holes through the U-joint and your shafts and then connect using spring pins.
Your shafts' misalignment will affect the speed and torque the U-joint will be able to transmit. The more the shafts are misaligned, the less speed and torque the U-joint will be able to transmit.
U-joints with a ball-spring oil fitting keep lubricant in the joint.
For technical drawings and 3-D models, click on a part number.
For

Max.


Shaft


Dia.

For

Max.


Shaft


Dp.

Joint


Dia.

Overall


Lg.

Max.


Operating
Angle

Max.




Speed,


rpm

Max.




Torque,




in.-lbs.

3°


Operating
Angle

10°


Operating
Angle
Joint
Type
Includes
Specifications
Met
Each

303 Stainless Steel

7/32

"

11/16

"

3/8

"
1

3/4

"
35°
1,500
100
Not Rated
Not Rated
Pin and Block
__
MIL-U-20625A Class C
0000000
0000000

9/32

"

3/4

"

1/2

"
2"
35°
1,500
375
Not Rated
Not Rated
Pin and Block
__
MIL-U-20625A Class C
0000000
000000

3/8

"

13/16

"

5/8

"
2

1/4

"
35°
1,500
610
Not Rated
Not Rated
Pin and Block
__
MIL-U-20625A Class C
0000000
000000

7/16

"

31/32

"

3/4

"
2

11/16

"
35°
1,500
1,000
Not Rated
Not Rated
Pin and Block
__
MIL-U-20625A Class C
0000000
000000

1/2

"
1

1/32

"

7/8

"
3"
35°
1,500
1,350
Not Rated
Not Rated
Pin and Block
__
MIL-U-20625A Class C
0000000
000000

9/16

"
1

3/16

"
1"
3

3/8

"
35°
1,500
1,900
365 in.-lbs. @ 300 rpm
235 in.-lbs. @ 300 rpm
Pin and Block
Ball-Spring Oil Fitting
MIL-U-20625A Class C
0000000
000000

5/8

"
1

7/32

"
1

1/8

"
3

1/2

"
35°
1,500
2,200
Not Rated
Not Rated
Pin and Block
Ball-Spring Oil Fitting
MIL-U-20625A Class C
0000000
000000

3/4

"
1

1/4

"
1

1/4

"
3

3/4

"
35°
1,500
3,600
690 in.-lbs. @ 300 rpm
450 in.-lbs. @ 300 rpm
Pin and Block
Ball-Spring Oil Fitting
MIL-U-20625A Class C
0000000
000000

7/8

"
1

5/16

"
1

1/2

"
4

1/4

"
35°
1,500
7,200
1,385 in.-lbs. @ 300 rpm
900 in.-lbs. @ 300 rpm
Pin and Block
Ball-Spring Oil Fitting
MIL-U-20625A Class C
0000000
000000
1"
1

9/16

"
1

3/4

"
5"
35°
1,500
10,700
Not Rated
Not Rated
Pin and Block
Ball-Spring Oil Fitting
MIL-U-20625A Class C
0000000
000000
1

3/16

"
1

5/8

"
2"
5

7/16

"
35°
1,500
15,500
2,980 in.-lbs. @ 300 rpm
1,935 in.-lbs. @ 300 rpm
Pin and Block
Ball-Spring Oil Fitting
MIL-U-20625A Class C
0000000
000000