About
U-Joints
(Universal Joints)
U-joints are used to connect two shafts that have a high amount of misalignment.
Corrosion-Resistant

Sealed

Easy-Install

Single

U-Joints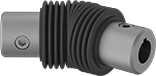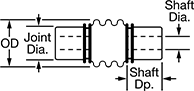 Stainless steel hubs allow these U-joints to handle harsh environments. A boot seal keeps lubricant in and contaminants out. Connect to shafts using the keyway and included set screws—no drilling required. All have needle bearings for operating at higher speeds than other types of bearings.
For technical drawings and 3-D models, click on a part number.
Dia.

Dp.

Joint


Dia.

Overall


Lg.

OD

Wd.

Dp.

Max.


Operating
Angle

Max.




Speed,


rpm

Max.




Torque,




in.-lbs.

3°


Operating
Angle

10°


Operating
Angle
Bellows
Material
Each

303 Stainless Steel with Steel Bearings

3/8

"

15/16

"

3/4

"
2

11/16

"
1

3/8

"

3/32

"

3/64

"
35°
6,000
95
28 in.-lbs. @ 1,000 rpm
19 in.-lbs. @ 1,000 rpm
Silicone Rubber
0000000
0000000

1/2

"
1

3/16

"
1"
3

3/8

"
1

1/2

"

1/8

"

1/16

"
35°
6,000
215
110 in.-lbs. @ 1,000 rpm
77 in.-lbs. @ 1,000 rpm
Silicone Rubber
0000000
000000

5/8

"
1

1/4

"
1

1/4

"
3

3/4

"
1

7/8

"

3/16

"

3/32

"
35°
6,000
700
275 in.-lbs. @ 1,000 rpm
185 in.-lbs. @ 1,000 rpm
Silicone Rubber
0000000
000000

3/4

"
1

3/8

"
1

1/2

"
4

1/4

"
2

1/4

"

3/16

"

3/32

"
35°
6,000
1,780
545 in.-lbs. @ 1,000 rpm
370 in.-lbs. @ 1,000 rpm
Silicone Rubber
0000000
000000
1"
1

11/16

"
2"
5

1/2

"
2

11/16

"

1/4

"

1/8

"
35°
6,000
4,300
1,050 in.-lbs. @ 1,000 rpm
705 in.-lbs. @ 1,000 rpm
Silicone Rubber
0000000
000000
10mm
24mm
19mm
68mm
35mm
3mm
11mm
35°
6,000
95
28 in.-lbs. @ 1,000 rpm
19 in.-lbs. @ 1,000 rpm
Silicone Rubber
0000000
000000
20mm
36mm
38mm
108mm
57mm
6mm
23mm
35°
6,000
1,780
545 in.-lbs. @ 1,000 rpm
370 in.-lbs. @ 1,000 rpm
Silicone Rubber
0000000
000000
25mm
43mm
51mm
140mm
68mm
8mm
28mm
35°
6,000
4,300
1,050 in.-lbs. @ 1,000 rpm
705 in.-lbs. @ 1,000 rpm
Silicone Rubber
0000000
000000