Miniature
T-Slotted

Framing and Fittings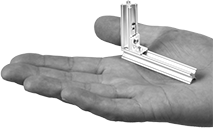 Build test fixtures, prototypes, and other small structures with this miniature version of T-slotted framing and fittings. The framing has continuous T-slots for attaching fittings with the included mounting fasteners.
For technical drawings and 3-D models, click on a part number.
Hinges for Single Rails—Aluminum



Perpendicular at
270°
Angle

Perpendicular at
90°
Angle

Range of Motion
Range of Motion
Hinges provide smooth motion between two rails.