About Rod Ends

Quick-Install

Ball Joint Linkages

Internal Spring

External Spring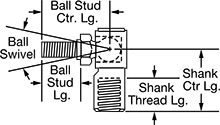 A spring-loaded sleeve allows for rapid assembly and disassembly. The stud is machined to fit perfectly inside its housing and swivel in all directions—good for light mechanical components and controls.
Ball joint linkages with an internal spring protect the spring from dirt and dust.
For technical drawings and 3-D models, click on a part number.
Thread
Size
Center


Lg.

Thread


Lg.

Thread
Size
Center


Lg.

Lg.

Max.


Ball
Swivel
Static
Radial
Load

Cap.

Material
Ball Stud
Thread
Direction
Each

Right-Hand

Threaded Shank

Internal Spring

10-32

7/8

"

1/2

"
10-32

7/8

"

7/16

"
40°
Not Rated
Zinc-Plated Carbon Steel
Right Hand
0000000
00000

1/4

"-28
1"

9/16

"

1/4

"-28
1"

9/16

"
30°
Not Rated
Zinc-Plated Carbon Steel
Right Hand
00000000
00000

5/16

"-24
1

1/8

"

5/8

"

5/16

"-24
1

3/16

"

11/16

"
30°
Not Rated
Zinc-Plated Carbon Steel
Right Hand
00000000
00000

3/8

"-24
1

3/8

"

13/16

"

3/8

"-24
1

9/16

"

7/8

"
30°
Not Rated
Zinc-Plated Carbon Steel
Right Hand
00000000
00000

External Spring

10-32

7/8

"

7/16

"
10-32

7/8

"

7/16

"
30°
Not Rated
Zinc-Plated Carbon Steel
Right Hand
0000000
0000

1/4

"-28
1"

9/16

"

1/4

"-28
1"

9/16

"
30°
Not Rated
Zinc-Plated Carbon Steel
Right Hand
0000000
0000

5/16

"-24
1

1/8

"

5/8

"

5/16

"-24
1

3/16

"

11/16

"
30°
Not Rated
Zinc-Plated Carbon Steel
Right Hand
0000000
00000

3/8

"-24
1

3/8

"

13/16

"

3/8

"-24
1

9/16

"

7/8

"
30°
Not Rated
Zinc-Plated Carbon Steel
Right Hand
0000000
00000

1/2

"-20
2"
1"

1/2

"-20
2"
1

1/8

"
30°
Not Rated
Zinc-Plated Carbon Steel
Right Hand
0000000
00000
M5 × 0.8 mm
23mm
11mm
M5 × 0.8 mm
22mm
11mm
30°
Not Rated
Zinc-Plated Carbon Steel
Right Hand
0000000
0000
M6 × 1 mm
25mm
13.5mm
M6 × 1 mm
26mm
14mm
30°
Not Rated
Zinc-Plated Carbon Steel
Right Hand
0000000
0000
M8 × 1.25 mm
28.5mm
15mm
M8 × 1.25 mm
31mm
17.5mm
30°
Not Rated
Zinc-Plated Carbon Steel
Right Hand
0000000
0000
M10 × 1.5 mm
35mm
21mm
M10 × 1.5 mm
40mm
22mm
30°
Not Rated
Zinc-Plated Carbon Steel
Right Hand
0000000
00000
M12 × 1.75 mm
51.5mm
25mm
M12 × 1.75 mm
50mm
28.5mm
30°
Not Rated
Zinc-Plated Carbon Steel
Right Hand
0000000
00000