Soft-Close

Friction Lid Hinges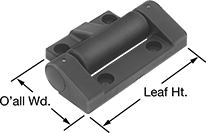 1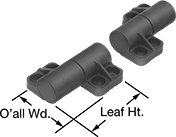 2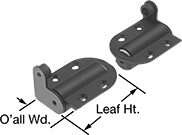 3
Eliminate slamming lids—these hinges hold lids open at their widest angle and then slowly pull them closed. All have a nonremoveable pin to deter tampering.
Hinges sold as a pair include two hinges for one lid.
Style 3 has hinge leaves that fit into two cutouts (mortises) to mount flush with door and frame edges.
Acetal hinges have better chemical resistance than polybutylene.
For technical drawings and 3-D models, click on a part number.
Ht.

Wd.

Ht.

Wd.

O'all




Wd.

Leaf


Thick.

Range
of
Motion

Torque,




in.-lbs.

Pin


Dia.

Pin
Material
Mounting
Fasteners
Included

No.

of
Mounting
Holes
Mounting
Hole
Style
Mounting
Screw
Size

Each

Gray Polybutylene Plastic

1
4

1/2

"
1

7/16

"
4

1/2

"
1

7/16

"
2

7/8

"
0.413"
115°
40

51/64

"
Polybutylene Plastic
No
4
Straight
M5, No. 11
0000000
000000
1
4

1/2

"
1

7/16

"
4

1/2

"
1

7/16

"
2

7/8

"
0.413"
115°
60

51/64

"
Polybutylene Plastic
No
4
Straight
M5, No. 11
0000000
00000
Pair
2
2

15/16

"
1

3/16

"
2

15/16

"
1

3/16

"
2

3/8

"
0.413"
115°
40

51/64

"
Polybutylene Plastic
No
4
Straight
M5, No. 11
0000000
00000
2
2

15/16

"
1

3/16

"
2

15/16

"
1

3/16

"
2

3/8

"
0.413"
115°
60

51/64

"
Polybutylene Plastic
No
4
Straight
M5, No. 11
0000000
00000

Black Acetal Plastic

3
2

9/16

"
1

1/16

"
2

9/16

"
1

1/16

"
2

1/8

"
0.125"
105°
70

13/16

"
Polybutylene Plastic
No
12
Straight
M4, No. 8
0000000
00000

White Acetal Plastic

3
2

9/16

"
1

1/16

"
2

9/16

"
1

1/16

"
2

1/8

"
0.125"
105°
70

13/16

"
Polybutylene Plastic
No
12
Straight
M4, No. 8
0000000
00000