Stay-Retracted

Pull-Release

Quick-Disconnect

Hinges with Holes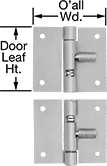 A keeper holds the pin in a retracted position to make reconnecting doors easier than other pull-release quick-disconnect hinges. These hinges are spring loaded—pull the handle to retract the pin and disconnect a door; release the handle and the pin snaps back. The hinges can also be used as a latch on cabinet lids, electrical enclosure doors, and computer equipment housings. Pin travel is the distance the pin must be moved to disconnect the hinge. A pair includes one left-side and one right-side hinge.
300 series stainless steel hinge is more corrosion resistant than zinc-plated low-carbon steel. It also has good chemical resistance.
For technical drawings and 3-D models, click on a part number.
Ht.

Wd.

Ht.

Wd.

O'all




Wd.

Leaf


Thick.

Range
of
Motion
Pin


Dia.

Pin
Travel
Pin
Material
Spring
Material
Mounting
Fasteners
Included

No.

of
Mounting
Holes
Mounting
Hole
Style
Mounting
Screw
Size

Pair

Zinc-Plated

Low-Carbon

Steel

1

3/4

"
1"
1

3/4

"
1"
2"
0.050"
270°

1/4

"

3/8

"
Steel
Stainless Steel
No
4
Straight
No. 5

00000000
000000

300 Series Stainless Steel

1

3/4

"
1"
1

3/4

"
1"
2"
0.050"
270°

1/4

"

3/8

"
300 Series Stainless Steel
Stainless Steel
No
4
Straight
No. 5

00000000
00000