About Rod Ends

Thrust-Rated

Swivel Joints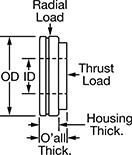 A unique design allows these joints to support heavy one-direction thrust loads as well as combined radial/thrust loads. Also known as spherical bearings, you can press them into tight spots where a rod end shank won't fit or mount them in a drilled hole or a rod end blank.
Lubricate these joints with any type of bearing grease when you install them. Apply the grease to the exposed surface of the ball, then rotate the ball to work the grease into the races. You'll need to reapply grease regularly.
For technical drawings and 3-D models, click on a part number.
ID
OD

O'all




Thick.

Housing


Thick.

Max.

Ball
Swivel
Static Radial
Load

Cap.,

lbs.

Static Thrust
Load

Cap.,

lbs.

Material
Each

1/2

"

7/8

"

5/16

"

3/16

"
7°
4,000
5,200
Bearing Steel
0000000
0000000

5/8

"
1

1/16

"

3/8

"

1/4

"
6°
6,900
8,700
Bearing Steel
0000000
000000

3/4

"
1

1/4

"

7/16

"

5/16

"
6°
10,500
12,600
Bearing Steel
0000000
000000

7/8

"
1

7/16

"

1/2

"

3/8

"
5°
14,900
17,600
Bearing Steel
0000000
000000
1"
1

5/8

"

5/8

"

7/16

"
6°
19,600
22,200
Bearing Steel
0000000
000000
1

1/4

"
2"

3/4

"

9/16

"
6°
32,000
35,400
Bearing Steel
0000000
000000
1

1/2

"
2

7/16

"

15/16

"

5/8

"
5°
44,500
51,900
Bearing Steel
0000000
000000
1

3/4

"
2

13/16

"
1

1/16

"

13/16

"
6°
61,600
69,300
Bearing Steel
0000000
000000
2"
3

3/16

"
1

1/4

"

15/16

"
6°
82,500
91,700
Bearing Steel
0000000
000000