Trailer Door Strap Hinges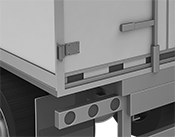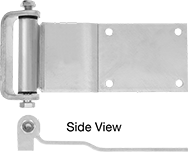 This hinge has wide hinge leaves that provide a large mounting surface to keep trailer doors from sagging. It also has an offset leaf to accommodate a door seal. Offset is the space between the door face and the frame when the door is closed.
For technical drawings and 3-D models, click on a part number.
Ht.

Wd.

Ht.

Wd.

O'all




Wd.

Offset
Leaf


Thick.

Range
of
Motion
Pin
Type
Pin


Dia.

Pin
Material
Mounting
Fasteners
Included

No.

of
Mounting
Holes
Mounting
Hole
Style
Mounting
Screw
Size

Each

Galvanized

Low-Carbon

Steel—

Dull

4"
9"
4

7/8

"

7/8

"
9

7/8

"
1

3/8

"
0.250"
270°
Removable

1/2

"
Steel
No
4
Straight

3/8

"

00000000
000000