Drop-In

Bench Vise Jaw Liners

Insert these one-piece grooved liners between vise jaws and tighten to squeeze closed and hold small-diameter material vertically.
Groove
Orientation
For Jaw


Wd.

Wd.

Ht.

Thick.

For Workpiece


Dia.

Each

Grooved

Aluminum

Vertical
1

1/4

"
1

1/4

"
1

3/8

"
1"

5/16

"-

13/32

"
0000000
000000
Accessories for
Any-Which-Way

Cable and Hose Carriers
Use these accessories to mount carriers to your machinery without creating an obstruction.
For technical drawings and 3-D models, click on a part number.
Cable Holders for End Mounting Brackets with Cable Holder Mount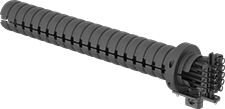 Cable Holder Shown Installed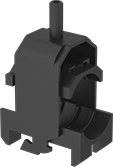 Cable Holder
Add cable holders to the end mounting brackets with cable holder mounts. They give you more support than cable ties, so they're good for large diameter or heavy lines. You'll need one cable holder for each cable you want to support.
For Cable OD
Color
Mount
Type
Cable
Holder Type
Holding
Mechanism
Set Screw
Included
Set Screw
Material
Manufacturer
Each
0.24"-0.47"
Black
Drop In
Clamp
Set Screw
Yes
Steel
Igus
00000000
000000
0.47"-0.55"
Black
Drop In
Clamp
Set Screw
Yes
Steel
Igus
00000000
00000
0.55"-0.63"
Black
Drop In
Clamp
Set Screw
Yes
Steel
Igus
00000000
00000
0.63"-0.71"
Black
Drop In
Clamp
Set Screw
Yes
Steel
Igus
00000000
00000
0.71"-0.79"
Black
Drop In
Clamp
Set Screw
Yes
Steel
Igus
00000000
00000
0.79"-0.87"
Black
Drop In
Clamp
Set Screw
Yes
Steel
Igus
00000000
00000
0.87"-1.02"
Black
Drop In
Clamp
Set Screw
Yes
Steel
Igus
00000000
00000
1.02"-1.18"
Black
Drop In
Clamp
Set Screw
Yes
Steel
Igus
0000000
00000
1.18"-1.34"
Black
Drop In
Clamp
Set Screw
Yes
Steel
Igus
00000000
00000