Selecting Clamps Using
Pipe,

Conduit,

or Tubing Trade Size
Clamping Hangers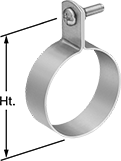 Reduce movement in your line with hangers that are more rigid than strap hangers and fit tighter around pipe, conduit, and tube than loop hangers. All have a bolt and nut to close the hanger and to mount onto either metal strapping or threaded rod eye nuts (both not included).
Hangers that include a wing nut tighten by hand.
For technical drawings and 3-D models, click on a part number.
Inch

Metric,


mm
For Pipe
Size

Cap.,




lbs.

Lg.

Wd.

Ht.

Mounting
Hole

Dia.

Includes
Each

13/16

"
21

1/2

270

7/8

"

7/8

"
1

5/8

"

1/4

"
Bolt and Nut
0000000
00000
1

1/16

"
27

3/4

270
1

1/16

"

7/8

"
1

13/16

"

1/4

"
Bolt and Nut
0000000
0000
1

5/16

"
33
1

270
1

5/16

"

7/8

"
2

1/8

"

1/4

"
Bolt and Nut
0000000
0000
1

11/16

"
43
1

1/4

270
1

11/16

"

7/8

"
2

1/2

"

1/4

"
Bolt and Nut
0000000
0000
1

7/8

"
48
1

1/2

270
1

15/16

"

7/8

"
2

7/8

"

1/4

"
Bolt and Nut
0000000
0000
2

3/8

"
60
2

270
2

3/8

"

7/8

"
3

3/8

"

1/4

"
Bolt and Nut
0000000
0000
2

7/8

"
73
2

1/2

500
2

7/8

"
1

1/4

"
3

7/8

"

1/4

"
Bolt and Nut
0000000
0000
3

1/2

"
89
3

500
3

1/2

"
1

1/4

"
4

7/8

"

1/4

"
Bolt and Nut
0000000
0000
4

1/2

"
114
4

500
4

1/2

"
1

1/4

"
5

7/8

"

1/4

"
Bolt and Nut
0000000
0000
5

9/16

"
141
5

500
5

1/2

"
1

1/4

"
6

15/16

"

1/4

"
Bolt and Nut
0000000
0000
6

5/8

"
168
6

500
6

5/8

"
1

1/4

"
7

15/16

"

1/4

"
Bolt and Nut
0000000
0000

Galvanized Steel

7

5/8

"
194
__
320
7

11/16

"
1"
8

1/2

"

1/4

"
Bolt and Wing Nut
0000000
0000
8

5/8

"
219
8

320
8

11/16

"
1"
9

1/2

"

1/4

"
Bolt and Wing Nut
0000000
0000
10

3/4

"
273
10

320
10

13/16

"
1"
11

1/2

"

1/4

"
Bolt and Wing Nut
0000000
0000
12

3/4

"
324
12

320
12

13/16

"
1"
13

1/2

"

1/4

"
Bolt and Wing Nut
0000000
00000
14"
355
14
320
14

1/16

"
1"
15

1/2

"

1/4

"
Bolt and Wing Nut
0000000
00000
16"
406
16
320
16

1/16

"
1"
17

1/2

"

1/4

"
Bolt and Wing Nut
0000000
00000