Multiple-Outlet

Electrically Operated Oil Dispensers with

Flow-Adjustment

Valves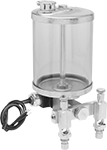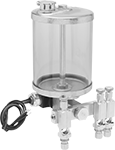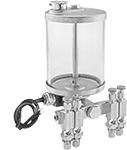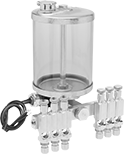 Serve multiple lubrication points from a single location. These dispensers have a solenoid that automatically starts and stops flow so lubrication is dispensed only while equipment is running. When wired to a machine's on/off switch, the solenoid remains closed until the machine is turned on. To adjust the flow to individual lubrication points, turn the dial on the corresponding valve. Dispensers can be used with any oil grade. Flow rate depends on temperature.
For technical drawings and 3-D models, click on a part number.
Cap.

Bowl


Dia.

Ht.

Wd.

Housing
Material
Bowl
Material
Pressure
Regulation

Max.




Temp.,




°F

Mounting
Thread
Size

Features
Electrical
Connection
Type
Wire
Connection
Type
Each

2 Outlets—

For

1/4"

Tube OD

1 gal.
5

1/2

"
16

3/4

"
4

3/8

"
Aluminum
Plastic
Vented
140°

5/8

"-18

Glass Flow Sight
Hardwire
Wire Leads
0000000
0000000

3 Outlets—

For

1/4"

Tube OD

1 gal.
5

1/2

"
16

3/4

"
5"
Aluminum
Plastic
Vented
140°

5/8

"-18

Glass Flow Sight
Hardwire
Wire Leads
0000000
000000

4 Outlets—

For

1/4"

Tube OD

1 gal.
5

1/2

"
16

3/4

"
5

7/8

"
Aluminum
Plastic
Vented
140°

5/8

"-18

Glass Flow Sight
Hardwire
Wire Leads
0000000
000000

6 Outlets—

For

1/4"

Tube OD

1 gal.
5

1/2

"
16

3/4

"
7

3/8

"
Aluminum
Plastic
Vented
140°

5/8

"-18

Glass Flow Sight
Hardwire
Wire Leads
0000000
000000

2 Outlets—

For

1/4"

Tube OD

1 gal.
5

1/2

"
16

3/4

"
4

3/8

"
Aluminum
Plastic
Vented
140°

5/8

"-18

Glass Flow Sight
Hardwire
Wire Leads
0000000
000000

3 Outlets—

For

1/4"

Tube OD

1 gal.
5

1/2

"
16

3/4

"
5"
Aluminum
Plastic
Vented
140°

5/8

"-18

Glass Flow Sight
Hardwire
Wire Leads
0000000
000000

4 Outlets—

For

1/4"

Tube OD

1 gal.
5

1/2

"
16

3/4

"
5

7/8

"
Aluminum
Plastic
Vented
140°

5/8

"-18

Glass Flow Sight
Hardwire
Wire Leads
0000000
000000

6 Outlets—

For

1/4"

Tube OD

1 gal.
5

1/2

"
16

3/4

"
7

3/8

"
Aluminum
Plastic
Vented
140°

5/8

"-18

Glass Flow Sight
Hardwire
Wire Leads
0000000
000000