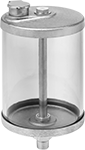 Mount these reservoirs directly to your machine, or use them with a flow-adjustment valve and brush (each sold separately) to create a dispenser.
Reservoirs with 140° F max. temp. have NPTF (Dryseal) threads, which are compatible with NPT threads. Flow rate depends on temperature.
For technical drawings and 3-D models, click on a part number.
Reservoirs—140° F Max. Temp.
Cap.

Bowl


Dia.

Overall


Ht.

Housing
Material
Bowl
Material
Pressure
Regulation
ISO
Grade
SAE
Grade
SSU
Grade
AGMA
Grade
Each

1/8

NPTF Male Outlet

1

3/4

fl. oz.
2"
3

1/8

"
Aluminum
Plastic
Vented
Not Rated
Not Rated
Not Rated
Not Rated
0000000
000000
Adjustable-Flow

Grease Dispensers
For more control over the flow rate of your grease, choose these gas-driven dispensers over spring-driven dispensers. Their continuous flow automatically adjusts based on the dispensing duration you set on their dial (from one to 12 months). Because you control when they'll empty, these dispensers make it easy to plan maintenance. To prevent over-lubrication when your machine is down, turn the dial to zero to cut off flow without uninstalling the dispenser. They're best for applications with consistent temperatures, so the viscosity of the grease won't change how quickly it flows. All have a clear bowl so it's easy to monitor the grease level.
Rated IP68, these dispensers seal out dust and water from temporary submersion. They're ATEX certified for use where explosive gases and dust could be present, such as mines and oil refineries.
Grease dispensers that come empty can be filled with the grease of your choice. Attach a filling adapter (sold separately) to make the filling process quick and mess free.
Grease-filled dispensers are ready to go right out of the box, so they're faster to install. They eliminate the mess of filling and keep out contaminants because you throw them away when empty. Grease-filled dispensers also reduce the chance you'll fill a lubrication point with the wrong grease. NSF registered H1 dispensers come with grease that's safe for incidental contact with food.
Grease fitting adapters let you connect these dispensers to your lubrication point if they're different.
For technical drawings and 3-D models, click on a part number.