Heavy Duty Level Indicators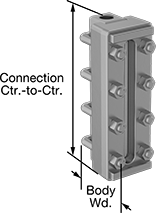 Indicator with Reflex Glass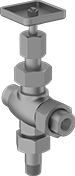 Reflex Glass

Gasket
Monitor liquid level in applications that have vibration, high pressures, and high temperatures. These indicators have steel chambers, glass windows, and seals made of fiber and SBR rubber to resist corrosion and withstand higher temperatures than other level indicators. Use them with a wide variety of liquids, such as petroleum, chemicals, and natural gas. All meet ASME BPVC.VIII.1 safety standards for pressure vessels, so they're approved for use in low-pressure water and steam applications too. Their gauge is made of reflex glass, which shows the level of liquid behind the glass, but not the liquid's color or any particulates in it. Also known as armored level gauges.
Add shut-off valves to stop flow with the turn of a wheel. They help you access indicators in order to clean or replace the glass or the entire indicator. These valves also stop flow automatically if the indicator glass breaks, preventing the loss of fluid. However, for permanent shut-off you must close them manually. Put one valve on top of your indicator and one on the bottom for a 90° connection between the indicator and your tank. To connect the female threads on your indicator to the female gauge threads on the shut-off valve, use a male pipe nipple (not included).
For technical drawings and 3-D models, click on a part number.