Number of Pieces

Number of Pieces
Container Type

Container Type
DFARS (Defense Acquisition Regulations Supplement)

DFARS

(Defense

Acquisition

Regulations

Supplement)
Bumper Assortments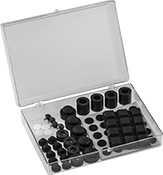 Keep bumpers of various shapes, materials, and mounting styles on hand to solve whatever problems arise.
Felt bumpers protect surfaces from scuffs.
Plastic bumpers are chemical resistant and won't dry out and become brittle when exposed to UV rays.
Rubber bumpers are abrasion resistant.
Polyurethane bumpers have better abrasion resistance than rubber bumpers.
Number
of
Pieces
Color
Container
Type
Includes
Each
93
Black, White
Plastic Case
1" Round Black Rubber Bumpers with Push-In Stem (5 ea.)


1/2

" Round Adhesive-Back Black Felt Bumpers (50 ea.)


1/2

" Round Adhesive-Back White Plastic Bumpers (4 ea.)


13/16

" Round Black Rubber Bumpers with Unthreaded Hole (4 ea.)


13/16

" Tapered Square Adhesive-Back Black Polyurethane Rubber Bumpers (12 ea.)


3/4

" Round Black Rubber Bumpers with Unthreaded Hole (4 ea.)


7/16

" Domed Black Rubber Bumpers with 6-32 Threaded Stud (4 ea.)


9/16

" Round Black Rubber Bumpers with Push-In Stem (10 ea.)
000000
000000