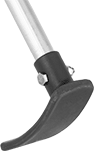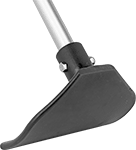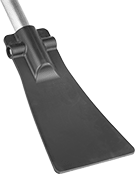 Spade
Safely push, pull, and clear objects from hard-to-reach places such as conveyors, chutes, and hoppers. With a lightweight handle and plastic head, these removers won't damage material finishes.
2"-wd. hoe removers have a slim profile to retrieve small items. 7"-wd. hoe removers push or pull large objects.
Spade removers reach up and into tight spaces such as overhead conveyor rollers.
Wd.

Ht.

Thick.

Overall


Lg.

Material
Head
Material
Flexibility
Each
Each

Hoe

2"
5"

3/8

"
48"
Aluminum
Plastic
Rigid
0000000
0000000
0000000
000000
2"
5"

3/8

"
96"
Aluminum
Plastic
Rigid
0000000
000000
0000000
00000
7"
7"

3/8

"
48"
Aluminum
Plastic
Rigid
0000000
000000
0000000
00000
7"
7"

3/8

"
96"
Aluminum
Plastic
Rigid
0000000
000000
0000000
00000

Spade

7"
13"

1/4

"
96"
Aluminum
Plastic
Rigid
0000000
000000
0000000
000000