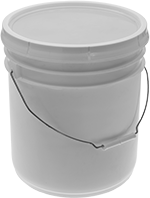 Apply directly to seals and O-rings to extend service life by preventing drying and cracking.
Synthetic-oil-based grease lasts longer than mineral-oil-based grease and withstands a wider range of temperatures.
Grease with silica thickener resists washing off and reduces corrosion in wet environments. Grease with PTFE has small particles of PTFE that reduce friction and help the grease maintain its lubricity. Grease lubricates most efficiently within the listed temperature range. Jet-Lube Ezy-Open is a grease-like liquid that contains detergent and PTFE additives to clean more effectively than grease while it lubricates. Since it is a liquid, it does not have a NLGI viscosity grade, but is less viscous than anything else in our offering.
Base Oil
Additive
Net

Weight,




lbs.

Type

Temp.




Range,

°F

Melting


Temp.,

°F

Color
Each

Jet-Lube

Ezy-Open

Liquid—

Silica Thickener

Synthetic
PTFE
35
Pail
-10° to 400°
Not Rated
Amber
0000000
0000000