Keychain Flashlights
Always have a flashlight on hand—these attach to a key ring. All have a nonslip grip to ensure a secure hold. All keychain flashlights were tested and rated to ANSI/NEMA FL 1 standards.
Incandescent lights are the traditional lighting choice. They cast a bull's eye beam, where the center is brighter than the edges for long-distance illumination. Twist the head to change the beam from a wide floodlight to a narrow spotlight.
LED lights produce more light, are more efficient, and generate less heat than incandescent lights. They cast a uniform beam, which is especially good for close-up tasks and inspection work.
Note: Battery life is significantly reduced when flashlights are used at the high-beam light setting.
For technical drawings and 3-D models, click on a part number.
Incandescent Bulbs—Adjustable Twist-Head Beam Focus

Incandescent

LED Bulbs—Fixed Beam Focus

LED

Uniform Beam
Brightness


(Battery Life)

Light
Setting

Distance,




ft.

Pattern

Lg.

Wd.

Dp.

Material
Color
Included

No.


Required
Specifications
Met
Environmental
Rating
Choose
a Beam
Color
Each
6 lumens (22 hrs.)
1 lumens (10 hrs.)
High Beam
Low Beam
Momentary
Strobe
50
Uniform
1

7/8

"
1"

5/16

"
Plastic
Black
Yes
2
ANSI/NEMA FL 1, CE Marked
IP04

00000000
00000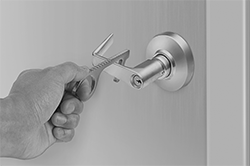 Open doors, pull levers, and push buttons with these multitools to avoid touching surfaces with your hands. They also have a touch-screen stylus that works with ATMs, pin pads, and checkout registers. These tools are made from copper alloy, which inhibits the growth of bacteria. It's also durable and rust-resistant, so these tools hold up to everyday use. Use the keychain hole to hang them from key rings and lanyards, so they're always on hand.
Number
of
Tools
Tools
Included
Tool
Material
Length
Width
Thickness
Features
Each
3
Button Presser, Door Opener, Touch Screen Stylus
Copper Alloy
3

5/8

"
1

3/8

"

1/4

"
Keychain Hole
0000000
000000

Clip these tools onto key rings or belt loops to handle unexpected jobs. The durable stainless steel body includes a box opener, screwdriver, wrench, ruler, and bottle opener.
No.


of
Tools
Tools
Included
Tool
Material

Lg.

Wd.

Features
Each
5
Bottle Opener, Box Opener, Large Slotted Screwdriver, Ruler, Wrench (

1/4

",

5/16

", and

3/8

")
Stainless Steel
2

5/8

"

3/4

"
Carabiner
0000000
00000