Safety Flags
Alert drivers and workers to potential hazards.
Flags with a threaded rod end are also known as warning whips. An extra-long rod holds them high in the air, so you can spot cars and trucks among stacked equipment, construction vehicles, and other large obstacles. They have a reflective X for visibility in dark conditions. For extra visibility, use flags with an X pattern with light. The LED lights are powered by your vehicle battery to keep flags illuminated for extended periods.
Spring mounts add extra support to flags with threaded rod ends. Flexible and strong, they allow the rods to whip back and forth without breaking.
90° angle brackets secure flags to the side of your truck.
Surface brackets hold flags steady against a truck bed or other flat surface.
Attach hitch mounts to trucks with the included cotter pin.
Flags with Threaded Rod End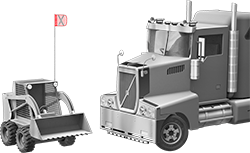 Ht.

Wd.

Dia.

Ht.,




ft.

Material
Fasteners
Included
For
Hole


Dia.

Color
Light
Color
Light
Technology
Includes
Each
11"
12"

1/2

"
6
Nylon

Yes

1/2

"
Fluorescent Orange/Reflective White
Amber
LED
Plug-In Connector with Wire Leads
00000000
000000
11"
12"

1/2

"
8
Nylon

Yes

1/2

"
Fluorescent Orange/Reflective White
Amber
LED
Plug-In Connector with Wire Leads
00000000
00000
11"
12"

1/2

"
10
Nylon

Yes

1/2

"
Fluorescent Orange/Reflective White
Amber
LED
Plug-In Connector with Wire Leads
00000000
000000
| | | | |
| --- | --- | --- | --- |
| Replacement LED Light for Threaded Rod End Safety Flags | 00000000 | Each | 000000 |
Mounts for Flags with Threaded Rod End

Spring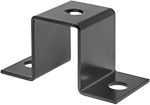 Surface Bracket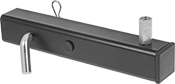 Hitch
For
Rod


Ht.,

ft.

Wd.

Lg.

OD
For Hitch
Receiver
Size
Material
Color
Mounting
Fasteners
Included

No.


of

Dia.

Each

Spring Mounts for Flags with Light

6, 8
__
6"
1

3/4

"
__
Zinc-Plated Steel
__
Yes
1

1/2

"
00000000
000000
10
__
6

1/2

"
1

7/8

"
__
Zinc-Plated Steel
__
Yes
1

1/2

"
00000000
00000

90°

Angle Bracket Mounts for Flags with and without Light

6, 8, 10
1"
2

3/4

"
__
__
Dull Aluminum
__
Yes
3

1/4

",

1/2

"
00000000
00000

Surface Bracket Mounts for Flags with and without Light

6, 8, 10
2"
4"
__
__
Powder-Coated Steel
Black
No
3

1/2

"
00000000
00000

Hitch Mounts for Flags with and without Light

6, 8, 10
2"
12"
__
2" Square
Powder-Coated Steel
Black
Yes
1

1/2

"
00000000
00000