Steering Wheel Knobs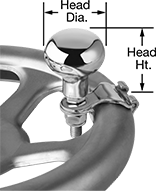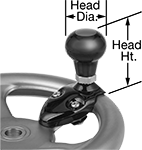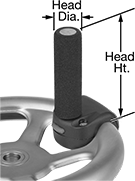 Often used on pallet and lift trucks, these knobs attach to steering wheels for one-hand operation.
316 stainless steel knobs are more durable than polypropylene and aluminum knobs.
Knobs with a ball grip are also known as spinner knobs.
Knobs with a pin grip can be grasped without fully opening your hand. They have a comfortable foam cover that helps combat hand fatigue.
Knobs with a ring grip make it easier for drivers with prosthetic hooks to steer.
Knobs with a quick release detach from the base with the press of a button.
Knobs with mounting adapters have a base that fits any size steering wheel. Use the mounting adapters to expand the base for large steering wheel rims.
Dia.

Ht.

Material
Bracket
Material
Grip
Material
Features
Includes
Each
1

1/2

"
1

7/8

"
316 Stainless Steel
Stainless Steel
__
__
Mounting Screws
0000000
000000
1

7/8

"
2

1/4

"
Polypropylene Plastic

Steel
__
__
Mounting Screws
0000000
00000
2"
2

5/8

"
Polypropylene Plastic

Plastic
__
Quick-Release Knob
Mounting Adapters, Mounting Screws
0000000
000000
1

7/8

"
2

3/4

"
Polypropylene Plastic

Plastic
__
__
Mounting Screws
0000000
00000
1

1/4

"
4"
Aluminum
Plastic
Foam
Quick-Release Knob
Mounting Adapters, Mounting Screws
0000000
000000
__
2"
Aluminum
Plastic
__
Quick-Release Knob
Mounting Adapters, Mounting Screws
0000000
000000