Conductive Liquid Gallium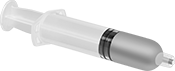 A safe alternative to mercury in thermometers and thermostats, gallium transfers heat and electricity without toxic vapor that can be inhaled. Also known as Galinstan. Its low melting point means it's liquid at room temperature. When used next to parts that generate concentrated heat, it dissipates the heat quickly, making it good thermal interface material. It also allows electricity to pass throughout it, so it's often used in switches and electronics that must bend and flex.
Gallium clings to both metallic and nonmetallic surfaces such as glass and quartz. However, it eats away at most metal when used at high temperatures and dissolves aluminum even at ambient temperatures.
When choosing gallium, keep in mind its composition. The higher the gallium and indium content, the better it is at transferring heat. Gallium with tin reduces the melting point, but also decreases how well it transfers heat.
Gallium
Indium
Tin

Size,




fl.




oz.

Type
Melting


Temperature,




°F

Maximum


Temperature,




°F

For
Use
On
Each
66.5%
20.5%
13%
0.1
Syringe
50°
930°
Glass, Nickel Alloys, Quartz, Stainless Steel, Steel
0000000
0000000
75.5%
24.5%
__
0.1
Syringe
60°
930°
Glass, Nickel Alloys, Quartz, Stainless Steel, Steel
0000000
000000