Copper-Free

Antiseize Lubricants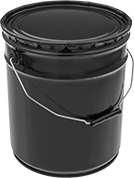 Made with graphite and nickel, these lubricants can be used in environments with extreme heat and harsh chemicals, such as acetylene and ammonia, where antiseize lubricants with copper can't. Also known as thread lubricants, antiseize lubricants prevent threaded fasteners and close-fitting parts from locking together due to corrosion, contamination, or heat.
Lubricants with aluminum resist galvanic corrosion between dissimilar metal.
Loctite® LB N-5000 High Purity Anti-Seize is made of highly pure ingredients in a controlled environment for superior corrosion resistance.
Lubricants that meet MIL-A-907 have been tested to prevent corrosion of copper and for antiseize properties when used with steel nuts and studs.
Lubricants that cannot be sold to the areas listed exceed local regulatory limits on VOC (volatile organic compounds).
Each
Size
Net
Weight
Type
Additive

Temp.




Range,




°F

Color
Specifications
Met
Compatible
With
Cannot
Be
Sold To
Each

Bostik

Never-Seez

Pure Nickel Special

8 fl. oz.
__
Brush-Top Can
Aluminum, Graphite, Nickel
-295° to 2400°
Silver
MIL-A-907
Aluminum, Brass, Carbide, Copper, Iron, Nickel, Stainless Steel, Steel, Titanium
__
0000000
000000
__
1 lbs.
Brush-Top Can
Aluminum, Graphite, Nickel
-295° to 2400°
Silver
MIL-A-907
Aluminum, Brass, Carbide, Copper, Iron, Nickel, Stainless Steel, Steel, Titanium
__
0000000
00000

Loctite® LB 771 Nickel Grade

Anti-Seize

8 fl. oz.
__
Brush-Top Can
Graphite, Nickel
-65° to 2395°
Silver
__
Aluminum, Brass, Carbide, Copper, Iron, Nickel, Stainless Steel, Steel, Titanium
__
000000
00000
__
1 lbs.
Can
Graphite, Nickel
-65° to 2395°
Silver
__
Aluminum, Brass, Carbide, Copper, Iron, Nickel, Stainless Steel, Steel, Titanium
__
0000000
00000
__
1 lbs.
Brush-Top Can
Graphite, Nickel
-65° to 2395°
Silver
__
Aluminum, Brass, Carbide, Copper, Iron, Nickel, Stainless Steel, Steel, Titanium
__
0000000
00000
__
8 lbs.
Can
Graphite, Nickel
-65° to 2395°
Silver
__
Aluminum, Brass, Carbide, Copper, Iron, Nickel, Stainless Steel, Steel, Titanium
__
0000000
000000
5 gal.
__
Pail
Graphite, Nickel
-65° to 2395°
Silver
__
Aluminum, Brass, Carbide, Copper, Iron, Nickel, Stainless Steel, Steel, Titanium
__
0000000
00000000

Loctite® LB

N-5000

High Purity

Anti-Seize

__
1 lbs.
Brush-Top Can
Graphite, Nickel
-20° to 2395°
Silver
__
Stainless Steel
__
00000000
000000
__
2 lbs.
Can
Graphite, Nickel
-20° to 2395°
Silver
__
Stainless Steel
__
00000000
000000

Lubricants

0.3 fl. oz.
__
Tube
Aluminum, Graphite, Nickel
-65° to 2600°
Silver
MIL-A-907
Aluminum, Brass, Carbide, Copper, Iron, Nickel, Stainless Steel, Steel, Titanium
__
00000000
0000
4 fl. oz.
__
Brush-Top Can
Aluminum, Graphite, Nickel
-65° to 2600°
Silver
__
Aluminum, Brass, Carbide, Copper, Iron, Nickel, Stainless Steel, Steel, Titanium
__
0000000
00000
8 fl. oz.
__
Brush-Top Can
Aluminum, Graphite, Nickel
-65° to 2600°
Silver
__
Aluminum, Brass, Carbide, Copper, Iron, Nickel, Stainless Steel, Steel, Titanium
__
0000000
00000
8 fl. oz.
__
Brush-Top Can
Aluminum, Graphite, Nickel
-65° to 2600°
Silver
MIL-A-907
Aluminum, Brass, Carbide, Copper, Iron, Nickel, Stainless Steel, Steel, Titanium
__
00000000
00000
__
12 oz.
Aerosol Can
Aluminum, Graphite, Nickel
-65° to 2600°
Silver
__
Aluminum, Brass, Carbide, Copper, Iron, Nickel, Stainless Steel, Steel, Titanium
CA
0000000
00000
16 fl. oz.
__
Grease Gun Cartridge
Aluminum, Graphite, Nickel
-65° to 2600°
Silver
MIL-A-907
Aluminum, Brass, Carbide, Copper, Iron, Nickel, Stainless Steel, Steel, Titanium
__
00000000
00000
__
1 lbs.
Brush-Top Can
Aluminum, Graphite, Nickel
-65° to 2600°
Silver
__
Aluminum, Brass, Carbide, Copper, Iron, Nickel, Stainless Steel, Steel, Titanium
__
0000000
00000
__
1 lbs.
Brush-Top Can
Aluminum, Graphite, Nickel
-65° to 2600°
Silver
MIL-A-907
Aluminum, Brass, Carbide, Copper, Iron, Nickel, Stainless Steel, Steel, Titanium
__
00000000
00000
__
2 lbs.
Can
Aluminum, Graphite, Nickel
-65° to 2600°
Silver
__
Aluminum, Brass, Carbide, Copper, Iron, Nickel, Stainless Steel, Steel, Titanium
__
0000000
00000
__
8 lbs.
Can
Aluminum, Graphite, Nickel
-65° to 2600°
Silver
__
Aluminum, Brass, Carbide, Copper, Iron, Nickel, Stainless Steel, Steel, Titanium
__
0000000
000000
Package
Size
Net
Weight
Type
Additive

Temp.




Range,




°F

Color
Specifications
Met
Compatible
With
Cannot
Be
Sold To

Pkg.




Qty.

Pkg.

Bostik

Never-Seez

Pure Nickel Special

8 fl. oz.
__
Brush-Top Can
Aluminum, Graphite, Nickel
-295° to 2400°
Silver
MIL-A-907
Aluminum, Brass, Carbide, Copper, Iron, Nickel, Stainless Steel, Steel, Titanium
__
12
00000000
0000000
__
1 lbs.
Brush-Top Can
Aluminum, Graphite, Nickel
-295° to 2400°
Silver
MIL-A-907
Aluminum, Brass, Carbide, Copper, Iron, Nickel, Stainless Steel, Steel, Titanium
__
12
00000000
000000

Lubricants

0.3 fl. oz.
__
Tube
Aluminum, Graphite, Nickel
-65° to 2600°
Silver
MIL-A-907
Aluminum, Brass, Carbide, Copper, Iron, Nickel, Stainless Steel, Steel, Titanium
__
50
000000000
000000
4 fl. oz.
__
Brush-Top Can
Aluminum, Graphite, Nickel
-65° to 2600°
Silver
__
Aluminum, Brass, Carbide, Copper, Iron, Nickel, Stainless Steel, Steel, Titanium
__
24
00000000
000000
8 fl. oz.
__
Brush-Top Can
Aluminum, Graphite, Nickel
-65° to 2600°
Silver
__
Aluminum, Brass, Carbide, Copper, Iron, Nickel, Stainless Steel, Steel, Titanium
__
12
00000000
000000
8 fl. oz.
__
Brush-Top Can
Aluminum, Graphite, Nickel
-65° to 2600°
Silver
MIL-A-907
Aluminum, Brass, Carbide, Copper, Iron, Nickel, Stainless Steel, Steel, Titanium
__
12
000000000
000000
__
12 oz.
Aerosol Can
Aluminum, Graphite, Nickel
-65° to 2600°
Silver
__
Aluminum, Brass, Carbide, Copper, Iron, Nickel, Stainless Steel, Steel, Titanium
CA
12
00000000
000000
16 fl. oz.
__
Grease Gun Cartridge
Aluminum, Graphite, Nickel
-65° to 2600°
Silver
MIL-A-907
Aluminum, Brass, Carbide, Copper, Iron, Nickel, Stainless Steel, Steel, Titanium
__
12
000000000
000000
__
1 lbs.
Brush-Top Can
Aluminum, Graphite, Nickel
-65° to 2600°
Silver
__
Aluminum, Brass, Carbide, Copper, Iron, Nickel, Stainless Steel, Steel, Titanium
__
12
00000000
000000
__
1 lbs.
Brush-Top Can
Aluminum, Graphite, Nickel
-65° to 2600°
Silver
MIL-A-907
Aluminum, Brass, Carbide, Copper, Iron, Nickel, Stainless Steel, Steel, Titanium
__
12
000000000
000000
__
2 lbs.
Can
Aluminum, Graphite, Nickel
-65° to 2600°
Silver
__
Aluminum, Brass, Carbide, Copper, Iron, Nickel, Stainless Steel, Steel, Titanium
__
6
00000000
000000
__
8 lbs.
Can
Aluminum, Graphite, Nickel
-65° to 2600°
Silver
__
Aluminum, Brass, Carbide, Copper, Iron, Nickel, Stainless Steel, Steel, Titanium
__
4
00000000
000000