Corrosion-Resistant

Antiseize Lubricants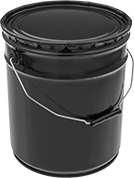 Corrosion-resistant additives allow these lubricants to withstand caustic environments, such as steel mills and power plants. Also known as thread lubricants, antiseize lubricants prevent threaded fasteners and close-fitting parts from locking together due to corrosion, contamination, or heat.
Lubricants with aluminum and with copper have good heat resistance. Lubricants with graphite have good chemical and corrosion resistance, along with excellent heat resistance. Lubricants with stainless steel resist alkaline solutions, as well as chemical and acid vapors. Lubricants with zinc are nonabrasive for use with soft metal.
Bostik Never-Seez High Temperature Stainless can handle heavy loads. Bostik Never-Seez Nuclear Grade Stainless is made with highly pure ingredients for chemical and corrosion resistance in extreme environments.
Loctite® Silver Grade Anti-Seize can be used with fine threads. Lubricants in a stick won't run or drip.
Lubricants that meet MIL-A-907 and MIL-PRF-907 have been tested to prevent corrosion of copper and for antiseize properties when used with steel nuts and studs.
Lubricants that cannot be sold to California exceed local regulatory limits on VOC (volatile organic compounds).
Each
Size
Net
Weight
Type
Additive

Temp.




Range,




°F

Color
Specifications
Met
Compatible
With
Cannot
Be
Sold To
Each

Bostik

Never-Seez

High Temperature Stainless

8 fl. oz.
__
Brush-Top Can
Aluminum, Graphite, Stainless Steel
-295° to 2200°
Silver
MIL-A-907
Aluminum, Brass, Carbide, Copper, Iron, Nickel, Stainless Steel, Steel, Titanium
__
000000
000000
__
1 lbs.
Brush-Top Can
Aluminum, Graphite, Stainless Steel
-295° to 2200°
Silver
MIL-A-907
Aluminum, Brass, Carbide, Copper, Iron, Nickel, Stainless Steel, Steel, Titanium
__
000000
00000

Bostik

Never-Seez

Nuclear Grade Stainless

__
1 lbs.
Can
Graphite, Stainless Steel
-295° to 2200°
Silver
MIL-A-907
Aluminum, Brass, Carbide, Copper, Iron, Nickel, Stainless Steel, Steel, Titanium
__
0000000
00000

Loctite® LB 8044 Zinc

Anti-Seize

__
1 lbs.
Can
Zinc
-20° to 745°
Silver
__
Aluminum, Brass, Copper, Iron, Stainless Steel, Steel
__
0000000
00000

Loctite® LB 8060 Silver Grade

Anti-Seize

__
0.71 oz.
Stick
Aluminum, Graphite
Not Rated to 1600°
Silver
__
Aluminum, Stainless Steel
__
0000000
0000

Loctite® LB 8150 Silver Grade

Anti-Seize

4 fl. oz.
__
Brush-Top Can
Aluminum, Graphite
-20° to 1600°
Silver
__
Aluminum, Brass, Carbide, Cast Iron, Copper, Iron, Nickel, Stainless Steel, Steel, Titanium
__
0000000
00000
7 fl. oz.
__
Brush-Top Tube
Aluminum, Graphite
-20° to 1650°
Silver
__
Aluminum, Brass, Carbide, Cast Iron, Copper, Iron, Nickel, Stainless Steel, Steel, Titanium
__
0000000
00000
8 fl. oz.
__
Brush-Top Can
Aluminum, Graphite
-65° to 1600°
Silver
MIL-PRF-907
Aluminum, Brass, Copper, Steel
__
0000000
00000
__
1 lbs.
Brush-Top Can
Aluminum, Graphite
-20° to 1600°
Silver
__
Aluminum, Brass, Carbide, Cast Iron, Copper, Iron, Nickel, Stainless Steel, Steel, Titanium
__
0000000
00000
1 gal.
__
Can
Aluminum, Graphite
-20° to 1600°
Silver
__
Aluminum, Brass, Carbide, Cast Iron, Copper, Iron, Nickel, Stainless Steel, Steel, Titanium
__
0000000
000000
5 gal.
__
Pail
Aluminum, Graphite
-20° to 1600°
Silver
__
Aluminum, Brass, Carbide, Cast Iron, Copper, Iron, Nickel, Stainless Steel, Steel, Titanium
__
0000000
000000

Loctite® LB 8151 AE Silver Grade

Anti-Seize

__
12 oz.
Aerosol Can
Aluminum, Graphite
-65° to 1600°
Silver
MIL-PRF-907
Aluminum, Brass, Copper, Steel
CA
0000000
00000

Lubricants

__
0.04 oz.
One-Time-Use Pack
Aluminum, Copper, Graphite
-65° to 2000°
Silver
__
Aluminum, Brass, Carbide, Copper, Iron, Nickel, Plastic, Stainless Steel, Steel, Titanium
__
0000000
0000
1 fl. oz.
__
Tube
Aluminum, Copper, Graphite
-65° to 2000°
Silver
__
Aluminum, Brass, Carbide, Copper, Iron, Nickel, Plastic, Stainless Steel, Steel, Titanium
__
0000000
0000
8 fl. oz.
__
Brush-Top Can
Aluminum, Copper, Graphite
-65° to 2000°
Silver
__
Aluminum, Brass, Carbide, Copper, Iron, Nickel, Plastic, Stainless Steel, Steel, Titanium
__
0000000
00000
16 fl. oz.
__
Grease Gun Cartridge
Aluminum, Copper, Graphite
-65° to 2000°
Silver
__
Aluminum, Brass, Carbide, Copper, Iron, Nickel, Plastic, Stainless Steel, Steel, Titanium
__
0000000
00000
__
1 lbs.
Brush-Top Can
Aluminum, Copper, Graphite
-65° to 2000°
Silver
__
Aluminum, Brass, Carbide, Copper, Iron, Nickel, Plastic, Stainless Steel, Steel, Titanium
__
0000000
00000
__
2

1/2

lbs.
Can
Aluminum, Copper, Graphite
-65° to 2000°
Silver
__
Aluminum, Brass, Carbide, Copper, Iron, Nickel, Plastic, Stainless Steel, Steel, Titanium
__
0000000
00000
Package
Size
Net
Weight
Type
Additive

Temp.




Range,




°F

Color
Specifications
Met
Compatible
With
Cannot
Be
Sold To

Pkg.




Qty.

Pkg.

Bostik

Never-Seez

High Temperature Stainless

8 fl. oz.
__
Brush-Top Can
Aluminum, Graphite, Stainless Steel
-295° to 2200°
Silver
MIL-A-907
Aluminum, Brass, Carbide, Copper, Iron, Nickel, Stainless Steel, Steel, Titanium
__
12
00000000
0000000
__
1 lbs.
Brush-Top Can
Aluminum, Graphite, Stainless Steel
-295° to 2200°
Silver
MIL-A-907
Aluminum, Brass, Carbide, Copper, Iron, Nickel, Stainless Steel, Steel, Titanium
__
12
00000000
000000

Bostik

Never-Seez

Nuclear Grade Stainless

__
1 lbs.
Can
Graphite, Stainless Steel
-295° to 2200°
Silver
MIL-A-907
Aluminum, Brass, Carbide, Copper, Iron, Nickel, Stainless Steel, Steel, Titanium
__
12
00000000
000000

Loctite® LB 8150 Silver Grade

Anti-Seize

7 fl. oz.
__
Brush-Top Tube
Aluminum, Graphite
-20° to 1650°
Silver
__
Aluminum, Brass, Carbide, Cast Iron, Copper, Iron, Nickel, Stainless Steel, Steel, Titanium
__
12
0000000
000000
8 fl. oz.
__
Brush-Top Can
Aluminum, Graphite
-65° to 1600°
Silver
MIL-PRF-907
Aluminum, Brass, Copper, Steel
__
12
00000000
000000

Loctite® LB 8151 AE Silver Grade

Anti-Seize

__
12 oz.
Aerosol Can
Aluminum, Graphite
-65° to 1600°
Silver
MIL-PRF-907
Aluminum, Brass, Copper, Steel
CA
12
00000000
000000

Lubricants

__
0.04 oz.
One-Time-Use Pack
Aluminum, Copper, Graphite
-65° to 2000°
Silver
__
Aluminum, Brass, Carbide, Copper, Iron, Nickel, Plastic, Stainless Steel, Steel, Titanium
__
250
00000000
000000
1 fl. oz.
__
Tube
Aluminum, Copper, Graphite
-65° to 2000°
Silver
__
Aluminum, Brass, Carbide, Copper, Iron, Nickel, Plastic, Stainless Steel, Steel, Titanium
__
25
00000000
000000
8 fl. oz.
__
Brush-Top Can
Aluminum, Copper, Graphite
-65° to 2000°
Silver
__
Aluminum, Brass, Carbide, Copper, Iron, Nickel, Plastic, Stainless Steel, Steel, Titanium
__
12
00000000
000000
16 fl. oz.
__
Grease Gun Cartridge
Aluminum, Copper, Graphite
-65° to 2000°
Silver
__
Aluminum, Brass, Carbide, Copper, Iron, Nickel, Plastic, Stainless Steel, Steel, Titanium
__
12
00000000
000000
__
1 lbs.
Brush-Top Can
Aluminum, Copper, Graphite
-65° to 2000°
Silver
__
Aluminum, Brass, Carbide, Copper, Iron, Nickel, Plastic, Stainless Steel, Steel, Titanium
__
12
00000000
000000
__
2

1/2

lbs.
Can
Aluminum, Copper, Graphite
-65° to 2000°
Silver
__
Aluminum, Brass, Carbide, Copper, Iron, Nickel, Plastic, Stainless Steel, Steel, Titanium
__
6
00000000
000000